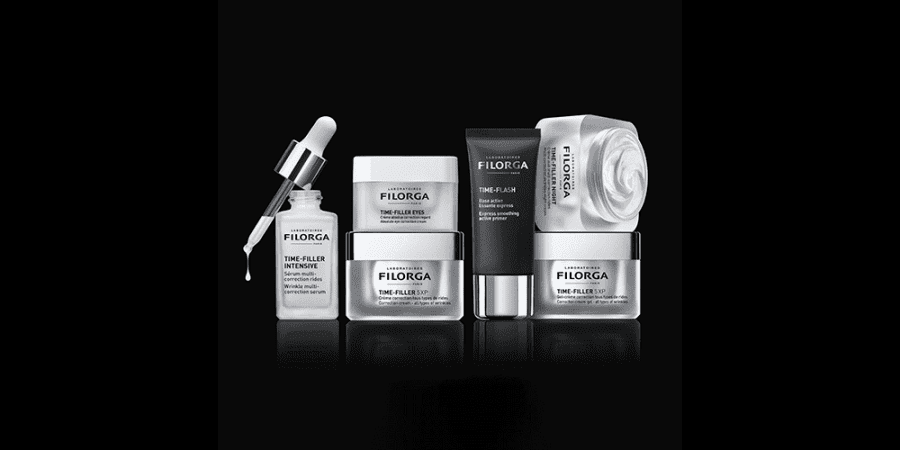 TIME-FILLER 5XP: 5 Anti-Wrinkle Aesthetic Medicine Benefits in One Cream.
All eyes on this new cosmetics revolution!
Ten years after the brand formulated its first cream, TIME-FILLER, FILORGA is once again revolutionising the world of anti-wrinkle skincare and has invented a daytime cream with 5XP technology. This is a unique superactivated formula inspired by five fields of aesthetic medicine expertise. It intensely smoothes away five types of wrinkles. One Day Cream, Two Textures.

TIME-FILLER 5XP: a tailor-made smoothing sensory experience to meet the needs of all skin types.
Cream: Correction for all types of wrinkles, a pampering, generous and enveloping texture to
provide absolute comfort for normal to dry skin.
Cream-Gel: Correction for all types of wrinkles, a light, fresh texture enriched with zinc that is quickly absorbed to provide a long-lasting matte finish for combination to oily skin.
5 Active Ingredients Inspired by Aesthetic Medicine, 5 Types of Targeted Wrinkles
Expression Wrinkles: Botox-like Tripeptide
Inspired by botulinum toxin injections: the new formula in TIME-FILLER 5XP contains a tripeptide that blocks the release of acetylcholine – a neurotransmitter that contacts the
muscles – to relax the features without immobilising facial expressions.
Deep Wrinkles: Filler-like Duo Inspired by filling injections: TIME-FILLER 5XP includes a complex of two collagen-boosting matrikines combined with encapsulated hyaluronic acid to increase the density of the skin's
support layer and fill the skin from deep inside.
Surface Wrinkles: Peeling-like Sea Fennel
Inspired by peels: TIME-FILLER 5XP benefits from the resurfacing properties of sea fennel for a smoothing action on surface wrinkles and increased cell renewal, without irritating or photosensitising the skin.
Dryness Wrinkles: Meso-like Plant
Inspired by revitalisation injections: NCEF, an iconic FILORGA complex, is combined with a powerful botanical extract from the root of the Imperata Cylindrica. This plant harnesses water and recreates the intrinsic water reserve within the epidermis to intensely hydrate and plump the skin.
Neck Wrinkle: Lifting thread-like active ingredient
Inspired by lifting threads: a restructuring botanical extract [derived from the Australian flower Kangaroo Paw] boosts the synthesis of the Tenascin-X protein, a dermal architect, whose production decreases with age, leading to the disorganisation of the extracellular matrix. Inspired by lifting threads, this exclusive FILORGA active ingredient reorganises the collagen and elastin fibres to tighten the skin on the face and neck. Results: All 5 Wrinkle Types are Smoother!
Expression wrinkles relaxed, deep wrinkles filled, surface wrinkles smoothed, dryness
wrinkles plumped, neck wrinkles restructured! One out of two women say they are willing to delay/forgo an injection after seven days of application. And nine out of 10 women say their skin looks younger after 56 days of application.
With this ultimate anti-wrinkle product, the Time-Filler franchise continues and reinvents its expert protocol.
These two iconic day creams, which are now available in enhanced versions, join the newest complete intensive anti-wrinkle ritual on the market