CANTIK
Filorga – The New Skin Unify Range For All Women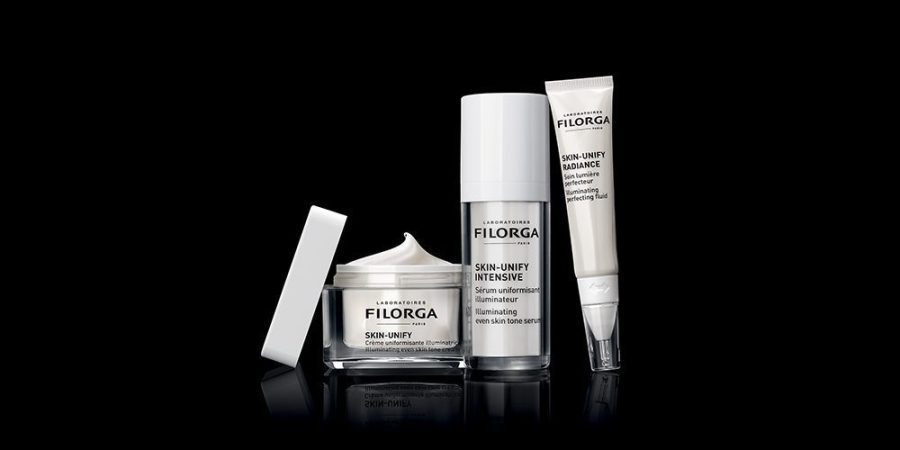 Filorga has created the new SKIN-UNIFY range for all women who dream of restoring a perfect complexion. Its 3 products contain a unique triple action core formula inspired by 3 aesthetic medicine techniques [laser-peel-medical strobing] to restore incomparably even skin tone and a dazzling aura.
To create it, FILORGA took advice from its committee of scientific experts and worked with Dr Frédéric Braccini, an aesthetic face surgeon and initiator of the medical strobing technique which inspired the range.
A dull and tired appearance even influences how old we appear to others. So, it's unsurprising that more and more women are bothered by their uneven complexion. Many are preoccupied with pursuing the perfect complexion while radiance is the popular new anti-ageing defence! Spotlight on… The 3 ASPECTS of a perfect complexion  Even and luminous… our perception of a perfect complexion is a multifaceted concept based on 3 parameters: 1/ A complexion free from dark spots Dark spots and pigmentation concerns are not only unsightly but can also add 10 years to a woman's actual age!An even complexion free from colour Imperfections. 
More and more women are seeking to camouflage redness and a yellow, grey or sallow complexion daily: 1 in 4 women would like to improve the evenness of their complexion.
A radiant complexion Restoring vibrant skin which captures and reflects light in all directions – the celebrated radiant complexion – has become a cross-generational pursuit: nearly half of women feel their skin lacks radiance.
What if skincare could now take inspiration from aesthetic medicine to even out the complexion, reveal its radiance and restore a youthful glow?
3 active ingredients that target melanin [vitamin C + glabridin + seaweed extract] to visibly reduce pigmentation spots. VITAMIN C + GLABRIDIN COMPLEX:
Vitamin C is combined with glabridin (licorice root extract) which work in synergy to tackle the synthesis of melanin, the pigment responsible for dark spots. Together, they inhibit the activity of tyrosinase, the enzyme responsible for melanin production. Their powerful antioxidant properties simultaneously limit the colouration of this melanin.
SEAWEED EXTRACT:
Grown in Brittany and nicknamed "rainbow wrack", the seaweed extract "Cystoseira tamariscifolia" has light- reflecting iridescent properties and highly innovative effects still rarely seen in cosmetics! And for good reason: this active ingredient has the power to trigger the degradation of melanosomes, the sacs containing the melanin pigment. By triggering their degradation, like the aesthetic medicine laser destroys pigments, it helps to visibly brighten dark spots.
Result: the intensity of dark spots is optimally reduced! MAXIMUM RE-UNIFYING EFFECTS. The SKIN-UNIFY core formula contains a botanical resurfacing active ingredient inspired by aesthetic peels, which accelerates epidermal renewal for a visibly more even complexion.
RESURFACING ACTIVE INGREDIENT:
Achillea millefolium extract stimulates the neuroreceptors (MC-2R + MOR-1) responsible for optimal epidermal proliferation and differentiation. It thus helps to improve the quality of epidermal renewal. It is comparable to glycolic acid in terms of its ability to accelerate cell renewal. An innovative approach to cell renewal for a formula with no skin sensitisation risk. Result: the skin is visibly more even!
INSPIRED