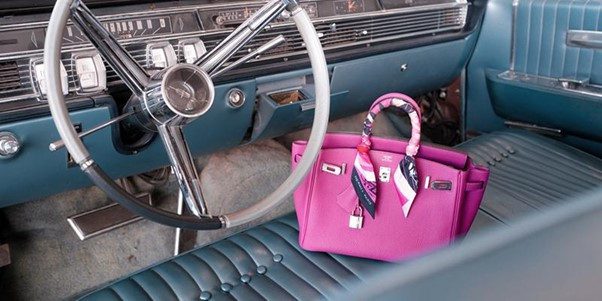 The History of the HERMÈS Birkin & Kelly Bags
Drake collects them for his future wife. Kanye had one customised by artist George Condo. Jeff Koons turns them into art. Virgil Abloh sends them down the Off-White runway. Kate Moss uses them as nappy bags. Victoria Beckham is rumoured to own over 100 of them. Yes, it would be fair to say that the HERMÈS (pronounced air-MEZ) Birkin bag is the holy grail of handbags — but it's not the only highly coveted style from the French maison.
Enter the Kelly bag. This signature handbag is just as sought after — and just like the Birkin, it has a waitlist to match its icon status. Like Samantha from 'Sex and the City', you can hop to the front of the queue too.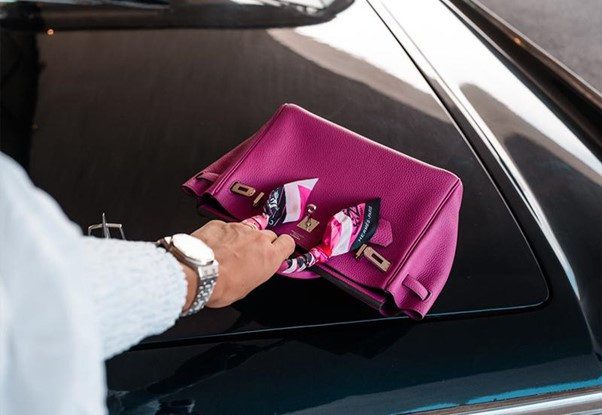 The History of HERMÈS
First, a little history. In 1837, Thierry Hermès founded his namesake business in Paris as a horse harness shop, dedicated to serving European noblemen. Winning various awards during the late 1800s, Hermès earned a reputation as one the finest producers of leather goods for horses — crafting all-things equestrian from saddles to bags, boots and hats. His son Charles-Émile later moved the HERMÈS flagship shop to 24 rue du Faubourg Saint-Honoré in 1880, where it remains to this day.
By the 1900s, under the founder's grandson Émile-Maurice, HERMÈS became the official saddler for the Czar of Russia and the first brand to introduce the zipper on leather goods in France. After producing golf garments for the Prince of Wales in 1918, HERMÈS began its first foray into leather handbags in 1922. Haute couture followed, along with an expansion into jewellery, watches, porcelain goods and scarves.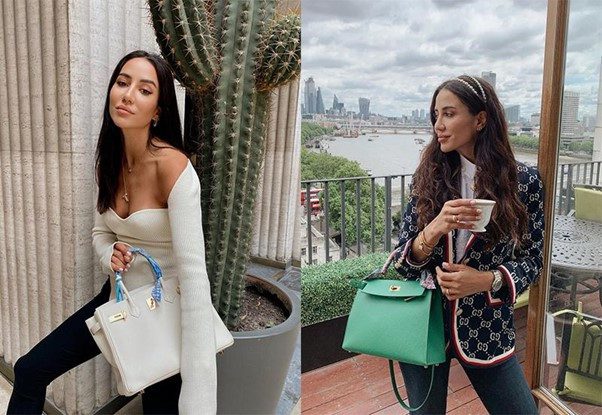 The History of the HERMÈS Birkin & Kelly Bags
Formerly the Sac à Dépêches, the Kelly bag was first introduced in 1935. Actress-turned-princess Grace Kelly fell in love with the HERMÈS design after filming with it in Alfred Hitchcock's 'To Catch a Thief'. However it was her effort to hide her baby bump with the bag in the mid-1950s that really garnered attention. As pictures of the Princess of Monaco emerged in magazines the world over, the demand for the HERMÈS bag grew exponentially. Although it instantly became known as the Kelly bag, HERMÈS officially renamed it in 1977.
The story of the Birkin goes a little differently. In 1984, somewhere above the English Channel on an Air France flight from Paris to London, the idea of the Birkin bag was born. As actress Jane Birkin — star of 'Wonderwall' and 'Blowup' — stuffed her trademark wicker basket bag into the overhead compartment, the contents spilled out onto the seat and aisle below. As if by fate (and a chance upgrade to First Class), Birkin found herself sitting next to the executive chairman of HERMÈS at the time, Jean-Louis Dumas. After a lengthy discussion about her ideal design and Dumas' recommendation of pockets, the English actress scribbled out a sketch of what would become the iconic Birkin. Her request? Bigger than the Kelly bag but smaller than Serge Gainsbourg's suitcase (also HERMÈS, naturally).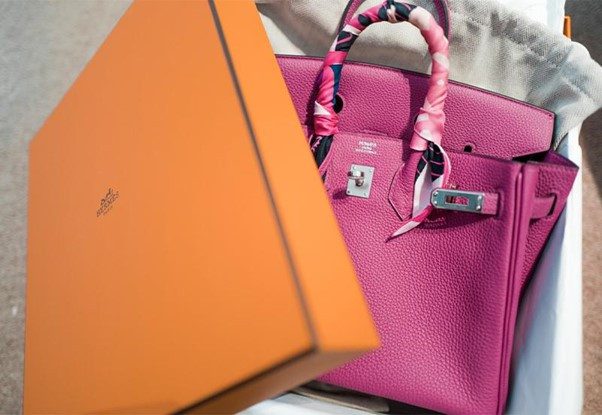 Birkin Bags Review
No one knows this French maison in and out quite like Tamara Kalinic (@tamara). With 10 HERMÈS bags in her wardrobe and counting, Tamara's no ordinary fan. Her extensive HERMÈS collection includes the Birkins 25, 30 and 35.
Which Birkin size is better?
"Classic Birkin bags come in four different sizes: 25, 30, 35 and 40, which basically means there's a Birkin bag for every occasion. Each number stands for the bag's width in centimetres. I personally use all of the bags I own, just for different situations. The Birkin 35 is great to use for travel."
What are the differences between the leathers of the HERMÈS Birkin bags?
"I have six different types of leathers in my whole collection, but for Birkins in particular I have the Birkin 25 in Togo, Birkin 30 in Epsom and Birkin 35 in Clemence. They really are so important, as the unique leathers together with exquisite colors is what makes each bag special."
"I truly love trying out different leathers, as they make all the difference. There are around 30 different types of leathers that HERMÈS does and that is probably the most a brand can offer. Different leathers differ in softness, texture, sturdiness, and can even affect the overall shape of the bag. Epsom and Togo are probably the two most popular ones — and also the most different — as Epsom tends to be more rigid, whereas Togo is softer. Togo bags are often stitched inside, and Epsom outside, which are respectively known as Retourne and Sellier types of stitching. The Sellier stitching is on the outside which gives the bag a more structured shape, while Retourne stitching is on the inside giving the bag a more rounded shape."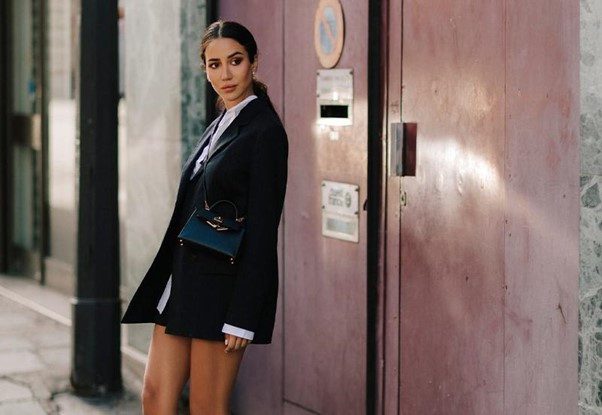 Kelly Bags Review
What are the different sizes of Kelly bags? And what are the differences between each size?
"Kelly is a little bit more versatile, as the name Kelly is used also for pieces that contain the famous Kelly clasp. The most standard Kelly sizes are 25, 28, 32 and 35. However there is also a Mini Kelly II and a Kelly Pochette. For me, the difference between them is also in elegance. The size doesn't determine the main difference — depending on the leather used, these bags are perfect for different occasions."
What are your tips for styling your HERMÈS bags? Do you switch it up for different sizes?
"I wear them all, and since they are so versatile, I would recommend checking my Instagram or YouTube channel for the biggest variation of outfits. Think about anything from a tracksuit to an elegant dress. These bags are honestly incredible and special, since their stitching type, different leathers and size determine the general feel of the bag."
What are the main differences between a Birkin and Kelly bag?
"The Kelly bags have a shoulder strap and a closure over the top, whereas the Birkin has two top handles and is more of a tote bag. Their shape is their main difference though, while the Birkin is rectangular, Kelly is more of a trapeze shape."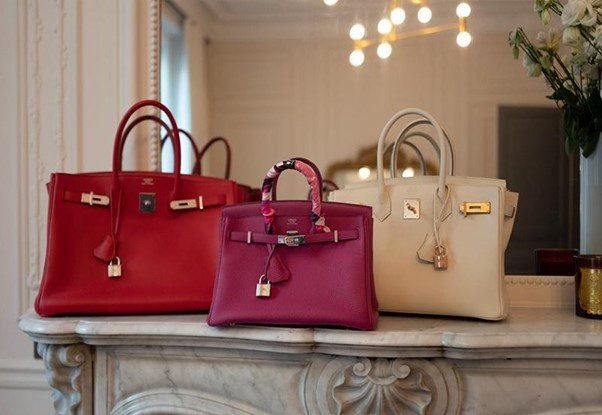 Price Increases and Investment Values
So what really makes HERMÈS bags so special?
"It's the fact that these bags are handmade. It takes high-brow craftsmanship and attention to detail to make them — not to mention the amount of time the artisans dedicate to manufacturing each and every bag." Because of this (and the fact that these artisans are far and few), HERMÈS bags are not as widely available, meaning they're super exclusive.
Is a HERMÈS bag a good investment?
"They are a good investment, because they gain value with time — from the moment you walk out of the store with the beautiful orange carrier bag."
How do you care for your HERMÈS bags?
"My philosophy is that people are to be loved, and things to be used. Of course, people spend a lot of money on HERMÈS bags, so naturally you want to take care of them. My advice would be to fill them in with bag shapers, try not to wear them in the rain or humid weather and avoid overpacking them with heavy bits as this can really weigh down the leather."
Do you have your eye on your next HERMÈS purchase? Which is next on your wishlist?
"Always. The moment I walk out of the HERMÈS store I already know what I am looking forward to next as I like to build my wardrobe based on my needs. I have few colourful options for spring/summer, but also the neutrals are so stunning all year round. Believe it or not (besides my HERMÈS Mini Kelly), I still don't own a classic black Kelly or Birkin for everyday use. Perhaps this one should be next on my list."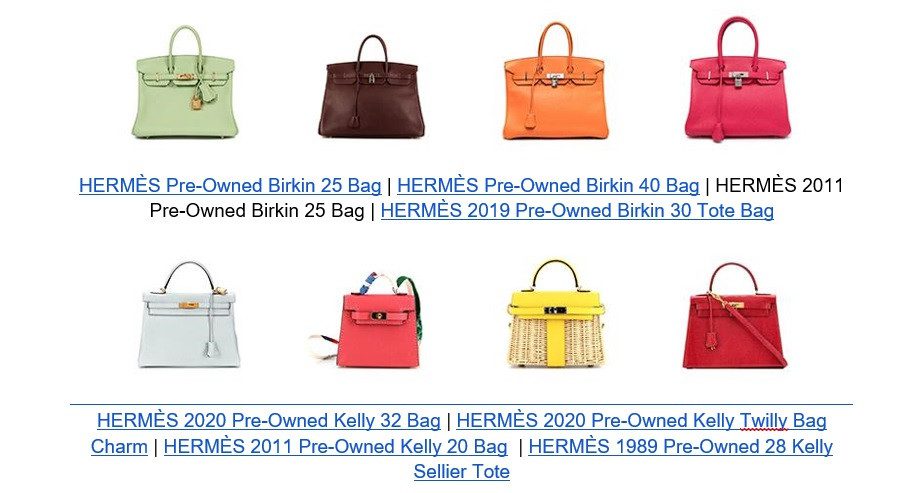 HERMÈS Pre-Owned Birkin 25 Bag | HERMÈS Pre-Owned Birkin 40 Bag | HERMÈS 2011 Pre-Owned Birkin 25 Bag | HERMÈS 2019 Pre-Owned Birkin 30 Tote Bag
HERMÈS 2020 Pre-Owned Kelly 32 Bag | HERMÈS 2020 Pre-Owned Kelly Twilly Bag Charm | HERMÈS 2011 Pre-Owned Kelly 20 Bag | HERMÈS 1989 Pre-Owned 28 Kelly Sellier Tote
WORDS BY JADE BROCK
source INTERNET