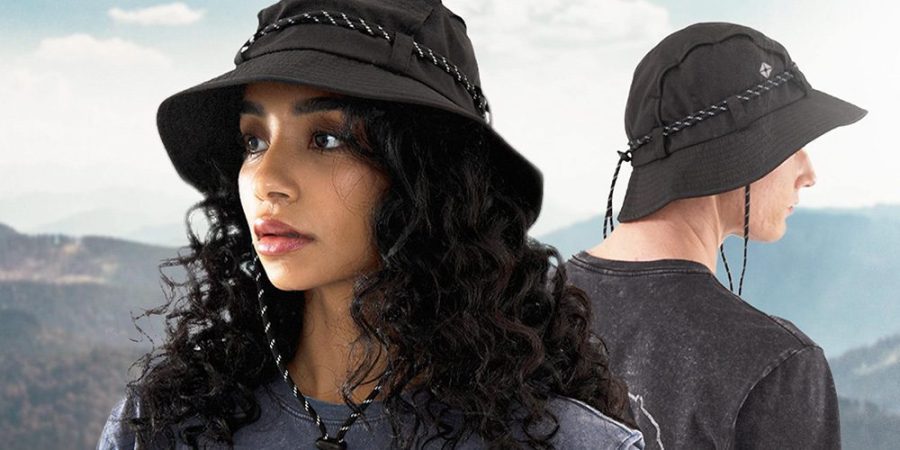 Here are 5 must-have outfit essentials for the urban jungle and out in the wild!
If the past two years have taught us anything, it's to live in the moment, make memories, ensure every second counts. Now that travel, dining-in, and social activities are allowed again, it's time to get off the couch and onto the streets to live your best life – all while looking and feeling your best!
When it comes to adventure apparel (outdoors or indoors) we have the gear for all you explorers – whether you're trekking between the meeting room and the bar, or up in the mountains and to the beach.
Here's a list of essentials to help you experience life to the fullest once again! 
Headgear: Xplorer Hat
Bucket hats are back – don't let anyone tell you otherwise! The Xplorer Hat can save your look on a bad hair day as well as accentuate your explorer-vibes when you're out and about. This eye-catching staple is sure to prompt some looks, so make sure the rest of your outfit is tight when you're wearing this conversation-starter!
Topwear: Aero 01 T-Shirt
Been working hard to get back into shape after gaining those pandemic pounds? Show off the new you with the Aero 01 T-Shirt ! This innovatively-designed shirt is made for comfort and performance, and has a snug and flattering fit that'll make you look clean and lean in any environment. Make sure you're photo ready when you put this bad boy on, because you're bound to turn some heads.
Long pants: All Day Pants
If you've embraced the sweatpants and boardshorts life during lockdown (who hasn't?) then these pants are for you. We still want you to be comfy, but while also looking your best. Embrace stylish athleisure with the Thousand Miles All Day Pants – basically the men's equivalent of yoga pants – which are so comfortable to move in, while also fitting so snug in all the right places.
Shorts: All Day Shorts Omniflex
Introducing the only shorts you'll ever need – no, really. Whether you've taken up a new hobby like bouldering, spinning or golf, or find joy in simply walking around town looking good, the All Day Shorts Omniflex will be your absolute best companion. And hey, even if you suck at golf, at least you'll look amazing on the green.
Underwear: AirMesh
And finally, we can't forget that the comfort of movement starts from within (the pants, that is!). It's hard to live an adventurous life without the right support, so while we can't hold your hand throughout it all, the Thousand Miles' AirMesh underwear is here to support you where it really matters. Developed and designed to ensure breathability, durability, and elasticity, AirMesh will have you feeling mobile and confident all day long!