FESYEN
Laporan Karpet Merah Golden Globe 2019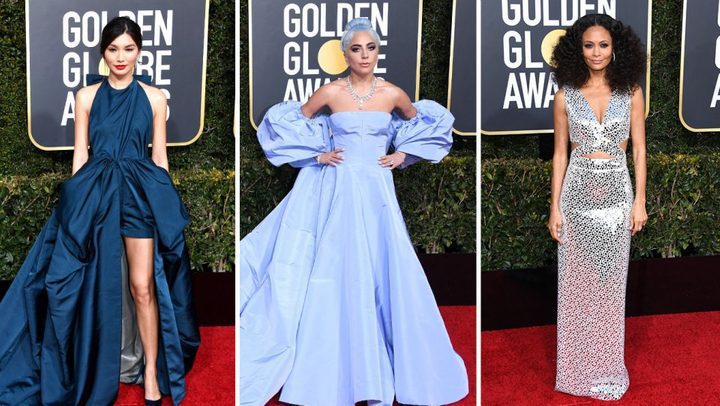 [vc_row][vc_column][vc_column_text]Huru-hara sekitar Beverly Hilton Los Angeles bagai dilanda tsunami dek penangan anugerah Golden Globe  baru-baru ini. Sebagai pembuka kepada segala majlis anugerah yang glamor di Hollywood, ia berlangsung dengan gah sekali – berharap semangat ini berterusan hingga ke Oscar dan Festival Filem Cannes nanti.
Seperti biasa adanya majlis anugerah, ada juga sesi karpet merah jadi kami siap sedia mengumpulkan penampilan terbaik dan tidak dilupa yang biasa-biasa namun tetap memeriah acara.
Yang glamor semestinya Lady Gaga. Dia kini memegang reputasi tinggi di acara karpet merah dengan penampilan yang hebat belaka. Masih terbayang gaun couture merah jambu berbulu-bulu daripada Valentino yang dipakai di Festival Filem Venice hujung tahun lalu. Tempoh hari dia kembali mencuri tumpuan (masih setia dengan Valentino) dalam gaun gempak warna biru muda dengan cape tanpa lengan.[/vc_column_text][thb_gap height="40″][vc_media_grid element_width="3″ gap="0″ grid_id="vc_gid:1547025702017-dcf3090d-3977-5″ include="8427,8428,8429,8433″][thb_gap height="40″][vc_column_text]Allison Janney menyarung gaun lengan panjang tanpa bahu berwarna turquoise daripada Christian Siriano, dengan rantai David Webb yang membuatkan mata lari seketika daripada terpandang lurah buah dadanya. Saya juga suka Emily Blunt dalam dress sulaman berkolar tinggi Alexander McQueen.
Pengacara bersama malam itu, Sandra Oh memakai gaun putih berleher asimetri Atelier Versace. Suka betul ya orang Korea bergaun putih. Di Seoul International Drama Awards dan KBS Drama Awards yang berlangsung seminggu lalu, hampir separuh aktres wanita yang hadir memakai gaun putih.
Nicole Kidman masih elegan macam dulu. Kali ini dia memakai gaun ketat lengan panjang Michael Kors Collection bersama anting-anting Harry Winston. Regina King (banyak media memilihnya sebagai antara penampilan terbaik di samping Lady Gaga) menyarung dress berkilau ros emas metalik Alberta Ferretti Limited Edition. Bintang Crazy Rich Asians Gemma Chan buat pertama kalinya ke Golden Globe memilih gaun stail 'bigger, more dramatic' daripada Valentino Haute Couture.[/vc_column_text][thb_gap height="40″][vc_media_grid element_width="3″ gap="0″ grid_id="vc_gid:1547026535500-a4e1b4ff-3f28-0″ include="8430,8431,8432,8434″][thb_gap height="40″][vc_column_text]Selebriti lain juga tidak kalah gaya seperti Taylor Swift, Charliza Theron, Octavia Spencer, Irina Shayk (agak seksi untuk dikongsi), Emmy Rossum dan Thandie Newton antara lain. Manakala dress merah jambu pucat Louis Vuittion Atelier pada badan Emma Stone nampak terlalu biasa walaupun banyak kerja diperlukan untuk membuat sehelai gaun itu (khabarnya mengambil masa 800 jam dan seramai 30 penyulam).
Terlupa menyebut penampilan Dakota Fanning. "The sweetheart cut, the shimmering silver-ish pearl tone and the little bow at the back are such a CREATION," meminjam komen https://www.instagram.com/i_knowfashion/[/vc_column_text][thb_gap height="40″][vc_media_grid element_width="3″ gap="0″ grid_id="vc_gid:1547026808526-acbc4ea6-18d1-9″ include="8435,8437,8438,8439″][thb_gap height="40″][vc_column_text]Terakhir sekali, Janelle Monáe yang menjadi tumpuan utama ratusan jurugambar dalam Chanel koleksi Metiers d'Art bertema Mesir. Pada saya ia terlalu 'keras' untuk dipakai ke acara karpet merah, kecuali majlis bertema kostum.
Koleksi ini direka bentuk merujuk gaya orang Mesir, dengan skirt tinggi di depan (meniru gaya shendyt atau skirt kait yang dipakai lelaki zaman Mesir Kuno dan biasa dilihat daripada zaman hieroglyphs). Kolar bejeweled dan topi emas ala fesyen angkasa lepas Jackie Kennedy sebagai jawapan couture Karl Lagerfeld kepada mahkota Mesir.
Seperti yang saya sebut di atas "Terlalu keras untuk dipakar ke acara karpet merah," jadi hemm so sorry Karl Lagerfeld my god father, it's a no from me.[/vc_column_text][thb_gap height="40″][vc_media_grid element_width="3″ gap="0″ grid_id="vc_gid:1547027414047-90a2e46e-6a9a-5″ include="8443,8441,8440,8442″][thb_gap height="40″][/vc_column][/vc_row]