FESYEN
COLLAB STORE by Local Designers
Where is the must-go-to shopping destination for authentic, contemporary, art-inspired and sustainable fashion in the heart of Kuala Lumpur? Easy answer – COLLAB STORE! A 5,000 sq-foot multi-brand boutique on the 2nd Floor, Shoppes at Four Seasons Place, Jalan Ampang.
Opened in 2021, Collab Store is the brainchild of fashion entrepreneur, Richard Tsen. Richard, born in Sabah and graduated from Raffles College of Higher Education in Singapore 1992, majoring in Fashion Marketing and Branding, has a prodigious passion for art, creativity and fashion. He wanted to create a one-stop retail space for collectable wearable art, streetwear and fashion, and even a platform for events and workshops. In a simple line, "where art meets fashion."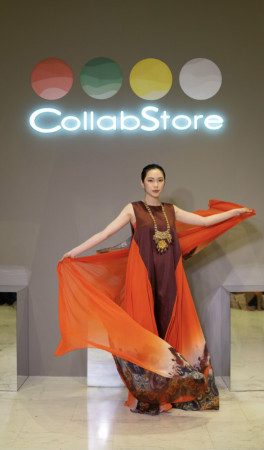 "Collab Store is a retail store that promotes unique and limited designs created by local designers in small batches of production", says Richard. "In addition, Collab Store will also organise design/ art related events and activities for emerging artists on a monthly basis", he adds. He also believes that a physical store has more intimacy of human-touch and unique shopping experience compared to the trend of ever-growing online stores.
With his concept in mind, he reached out and curated the creative, intriguing, unique and dynamic designers and brands both from East and West of Malaysia and brought them together under the umbrella of Collab Store. Filling merchandise categories of Womenwear, Menswear, Streetwear, Footwear, Accessories, even Homeware. The brands and designers available at Collab Store include: Andy Sulaiman, Angelique, Arumn, Baderol, Behati, Cantiq Couture, Eliot Malaysia, Eric Choong, Fewl Good, Furry Macaroni, Halim, Kit Woo, Outdwell, Project1826, Reeh and Heer, RHR Xcluseev, Styled by Peter Lum, Umbi, Yacutha, Zaff Ben Jibby, Zuushaha.
Apart from being a one-stop shopping experience for contemporary high street fashion designed and produced locally. Collab Store plans to organise workshops, short film screenings, product demonstrations, busking/DJ spin, fashion exhibitions, being also a platform for emerging designers to showcase their creation and gain exposure. The announcement of activities, exhibitions, performances, promotions and workshops will be announced on Collab Store's social media.