FESYEN
ZALORA 10th Birthday Celebration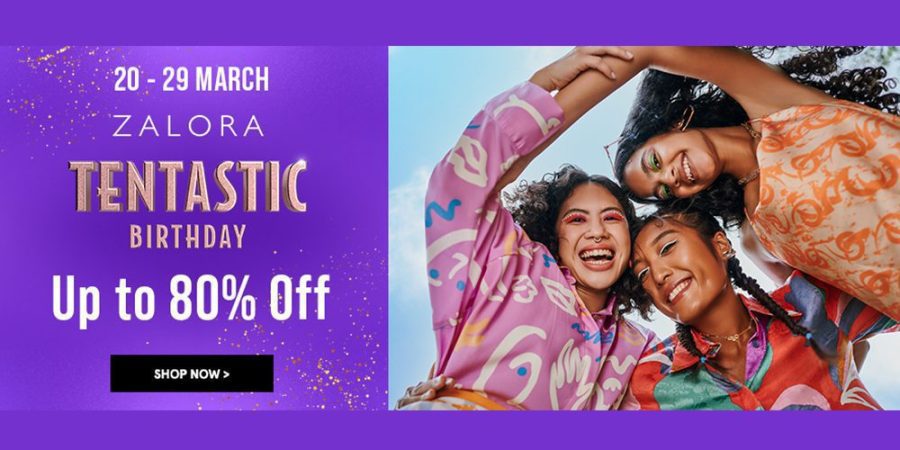 ZALORA, Asia's online fashion and lifestyle destination emerged in South East Asia in 2012 as a start up that envisioned itself as being #1 fashion e-commerce provider in the region and to change how people shop fashion in the region. 10 years later, the platform is an industry pioneer and innovator, with an extensive portfolio of over 8,000 local and international brands. Curated for the stylish and fashion conscious, ZALORA's offerings have evolved over the years to expand into new categories including, Beauty, Pre-loved, Luxury and Lifestyle which offers essentials and home & living.
Well loved for being a customer-first brand, ZALORA has provided a seamless digital shopping experience in Singapore, Malaysia, Hong Kong, Taiwan, Indonesia and the Philippines. Its speedy and reliable delivery via a broad network of logistical services makes ZALORA brands' partner of choice. A connection to customers enables ZALORA to resolve pain points effectively, and the platform today boasts 26 options for payment plans, including cash-on-delivery and buy-now-pay later.
More importantly, though its parent company, Global Fashion Group (GFG), ZALORA also offers platform services to brands which includes Operations, Data, and Marketing Services. As more brands began embracing an omnichannel approach, ZALORA also tapped into its extensive delivery network and localized on-the-ground experience to expand its fulfillment portfolio. Coupled with ZALORA's data insights and ever-evolving Marketing Services, the e-commerce platform continues to grow its capabilities as a partner that adds value to brands' business needs.
"Looking back on 10 years of ZALORA, we are humbled by the support and faith entrusted to us from our customers and brand partners.. ZALORA has continued to evolve and grow due to our ongoing dedication to deliver unparalleled customer experiences and long-term brand partnerships built on trust. Without this, our goal of being Asia's leading fashion and lifestyle ecommerce platform would be impossible," said Eric Cheang, Director of International Brands. In celebration of a decade, ZALORA will host the Tentastic Sale on March 20 – 29 across countries. Beyond the deals up to 80% off, expect exciting events to ring in the 10th anniversary of Asia's leading fashion and lifestyle platform. Shoppers can look out for cashback guaranteed up to RM1,000 and win prizes daily through games on site. Daily flash sales and birthday markdown bonanzas await, featuring brands such as Adidas, Polo Ralph Lauren, COS, Nike, and more! The ZALORA Tentastic Special is offering 100% cashback when shoppers purchase 10 items from selected products, all through the campaign.