CANTIK
REVERSE SIGNS OF AGING WITH 95% PURE RETINOL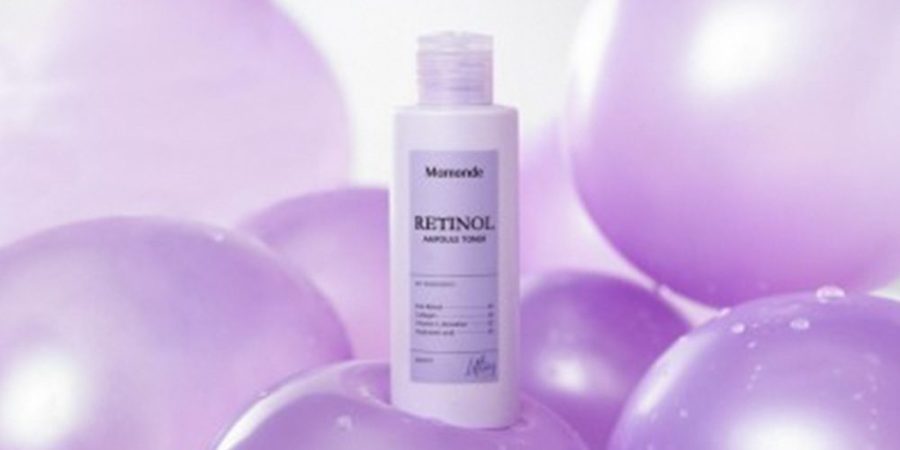 Amorepacific's First Retinol Anti-Aging Toner with 26 Years of Research on Retinol Technology
Most people are aware of the importance of cleansing and moisturizing our skin daily, but are facial toners really necessary? At a glance, it doesn't seem to be all that essential and it adds an extra step to our daily skin regimen.
Here's a newsflash – toners can offer a host of benefits and boost your skin health! In fact, K-beauty fans  swear by this step and attribute their radiant, clear skin to the use of toners and lotions!
Being Amorepacific's first Retinol Toner, Mamonde's latest Retinol Ampoule Toner is backed with 26 years of research on retinol technology and ingredients. Not only it rejuvenates the skin, but can help enhance the skin's elasticity, lift, firm and tighten skin appearance as well as brighten uneven skin tone. Apart from removing the last traces of oil, dirt and impurities, applying toner can help to minimize pores,
soothe the skin and help skin retain moisture. Add retinol to the equation and you've got a winning formula!
Mamonde's Retinol Ampoule Toner contains 95% pure retinol that serves to reduce the appearance of fine lines, wrinkles and uneven skin tone and texture. The highly moisturizing anti-ageing ampoule toner helps to improve skin elasticity for a more youthful and plump skin and reduces the signs of aging.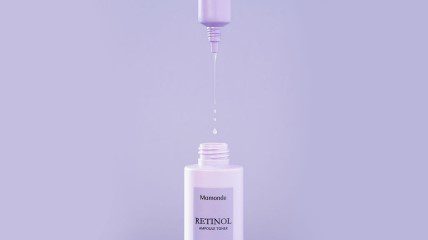 The latest addition to its successful range of products, Mamonde's Retinol Ampoule Toner is a highly moisturizing anti-ageing ampoule toner with 95% pure retinol that does wonders for skin elasticity. Amorepacific's first retinol toner based on 26 years of retinol technology, the toner contains a type of retinoid made from vitamin A. The mild formula is suitable for morning and night use and offers multiple skin benefits.
Just like beauty ampoules, it works like a highly concentrated ampoule that makes the skin soft inside and keeps the skin moist on the outside.
The toner is formulated with 6-free formula (free of mineral oil, polyacrylamide, imidazolidinyl urea, triethanolamine, synthetic colours, and paraben) and has been tested for skin irritation, so rest assured that it can be used comfortably on the skin on a daily basis.
Mamonde's Retinol Ampoule Toner is quickly absorbed into the skin, supplying collagen along the way, the core component of skin elasticity. It also has hyaluronic acid that draws 1,000 times its weight in water, providing moisture to dry and rough skin.
Additionally, it contains vitamin C derivatives which has antioxidant effects, making the skin look livelier and clearer.
 Directions for Use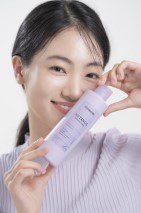 *Use twice a day, after cleansing in the morning and evening. Suitable for all skin types, you can apply an appropriate amount to your hands, gently pat it all over your face and let it absorb into your skin.
*Those with normal to dry skin may dab a few layers of toner gently with their hands. You can pair Mamonde's Retinol Ampoule Toner with any products.
* Those with oily or combination skin should apply the toner with cotton pads as this helps to remove excessive impurities and makeup residue.
Recommended Skincare Routine

Step 1: Use Mamonde Triple Multi Cleansing Foam to gently cleanse away impurities on the skin. Step 2: Apply Pore Clean Stick to gently remove sebum and minimize the appearance of pores, use it once or twice a week.
Step 3: Rinse and gently dap the Retinol Ampoule Toner until fully absorbed into the skin. Step 4: For special care treatment, apply Flower Ampoule Sheet Mask after using the Retinol Ampoule Toner.
Step 5: Apply Mamonde Red Energy Recovery Serum to boost skin radiance.
Step 6: Lastly, apply an adequate amount of Mamonde Blue Chamomile Soothing Repair Cream to deliver moisture deep into the skin.
Beauty Tips
Get multiple usage out of the Retinol Ampoule Toner: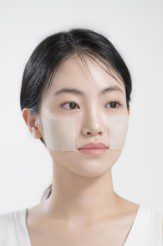 1. Toner Mask – Dampen the cotton pads with Retinol Ampoule Toner and apply the cotton pads on
forehead, cheeks and chin for 5-10 mins everyday or twice a day for instant firming and glowing effects.
2. 7 Skin Method – After cleansing, wipe Retinol Ampoule Toner with cotton pad then pour a little amount on your palm and dap gently on the skin 6 times.
3. Face Mist – Pour Retinol Ampoule Toner into an empty bottle, spray on face whenever your skin feels dry and tired. You may use the mist to fix or touch up makeup or spray on your cushion puff for extra soothing effect.
4. DIY Cotton Mask – Mix Retinol Ampoule Toner with Red Recovery Serum and Blue Chamomile Soothing Repair Cream in a bowl. Mix well and dampen the cotton pads, apply the cotton pads on forehead, cheeks and chin for 10 mins.
In conjunction with Lazada Birthday, Mamonde Retinol Ampoule Toner will be pre-launched on Lazada from 27 – 29 March 2022, offering an exclusive pre-launch set with 43% savings + 4-piece gifts worth RM68.
Mamonde Retinol Ampoule Toner, 250ml (RM 90)