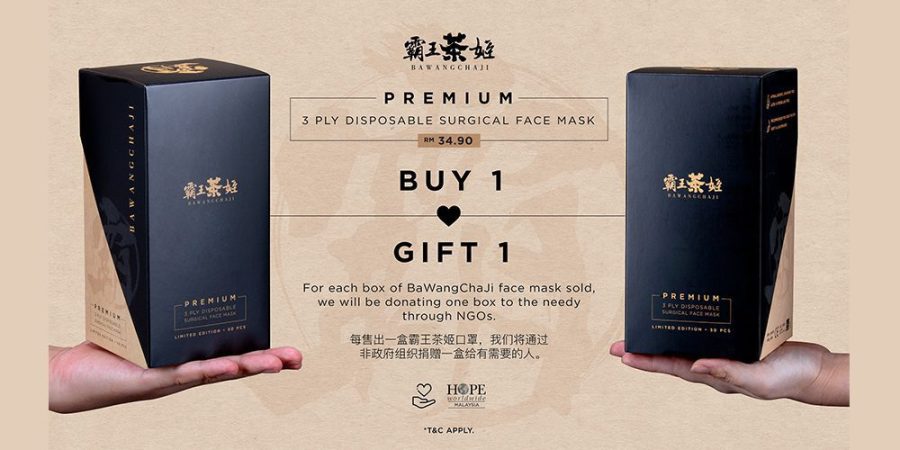 Face masks have become a crucial necessity for all Malaysians to stay safe amidst the pandemic. Face masks are being sold immensely everywhere in Malaysia and can
be easily purchased online. Unfortunately, many underprivileged people may not have the funds to acquire sufficient quality masks and might be exposed to potential risks.
"We are very aware of the impact this pandemic has on the livelihoods of our community, more so the risk factors on the underprivileged who don't have sufficient resources to stay safe. We'd like to offer our efforts to spread awareness on wearing quality masks for safety purposes and also do our part in contributing face masks to those in need", said CEO of BaWangChaJi Malaysia, Jack Chong.
BaWangChaJi has produced these 3-ply disposable surgical face masks with EMPRO who manufactures the highest quality face masks using the World's 1st AEROFIT Technology. This advanced technology manufactures masks that provide comfort as well as the highest protection to users.
These premium face masks are made hypoallergenic graphene-free and free from latex and fiberglass which make them wearable for those with sensitive skin. BaWangChaJi face masks are also made lightweight and soft to provide utmost comfort while wearing. The face masks come in boxes of 50 pieces and will be available from the 29th of September onwards at RM 34.90 per box. For every box purchased, a box of the masks will be donated to a non-governmental organization (NGO), HOPE worldwide Malaysia who will then distribute these premium and high-quality face masks to the needy. The 'Buy 1, Gift 1' face mask campaign will be carried out from the 29th of September 2021 until the 31st of October 2021.
BaWangChaJi cares deeply for their employees and customers safety during this pandemic, thus will be allocating these quality face masks for employees to use as well as encourage customers to use quality face masks and support this cause. "We believe that our online presence and influence will encourage more people to be a part of this good cause because only through a joint effort can we make a real difference," concluded Jack Chong, CEO of BaWangChaJi Malaysia.
To those who wish to support the 'Buy 1, Gift 1' face mask campaign, you may purchase these premium 3-ply surgical face masks per box at all BaWangChaJi's outlets in Malaysia from the 29th of September onwards. You can also locate all BaWangChaJi's outlets here. Apart from that, you may also order the BaWangChaJi face masks through our BW delivery platform and get it delivered directly to your homes.