FESYEN
Lancôme x Louvre: Beauty is a living art.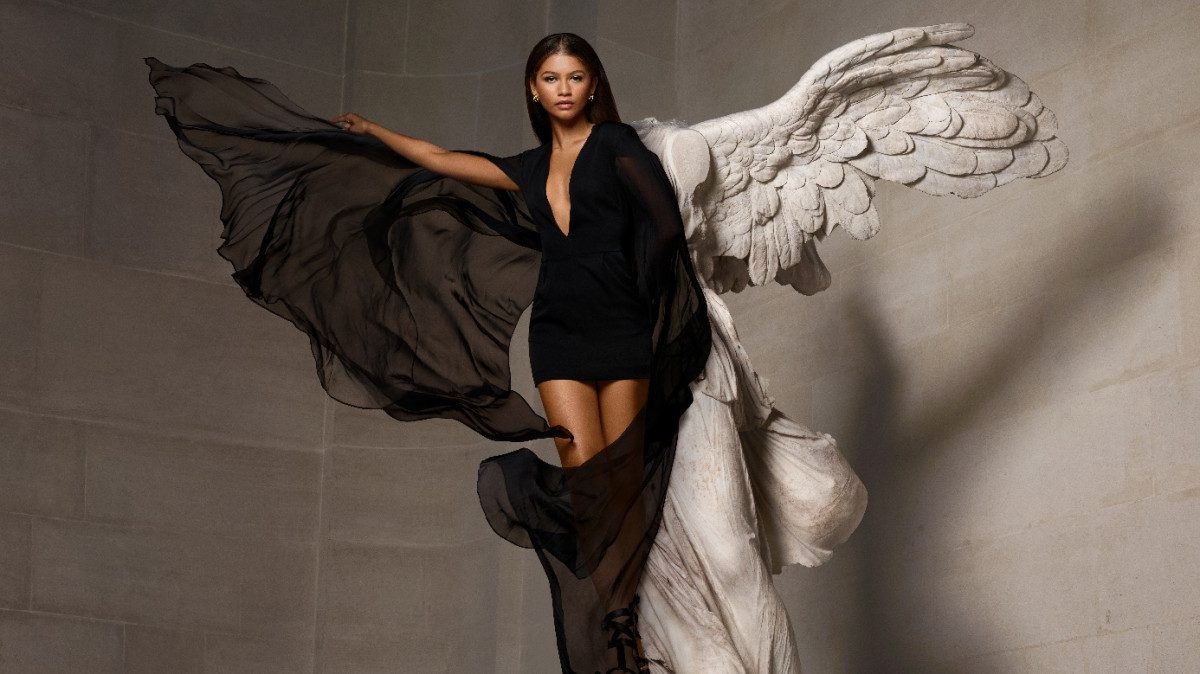 Tap into your own history.
When two French institutions meet, Louvre- the most famous
museum in the world & Lancôme leading French beauty brand
empowering women worldwide, an unprecedented collaboration
happens as they are stepping into history to look to the
future.
A creative journey through centuries of art history of the
Louvre to look for the meaning of Beauty. As a true universal
museum, it is a meeting place of cultures that shape Identity
to inspire us to envision how Beauty takes form.
A collaboration which invites us to pursue the dynamic
dialogue between Art & Beauty in telling women's stories
that echo our times beyond eras, geographies, & cultures in
our modern world.
Lancôme x Louvre: Beauty is a living art.
Masterpieces associated with Lancôme global ambassadors.
Lancôme is honoured to share the new campaign shot
inside the Louvre museum, celebrating women who
pioneered and carved out space before us – immortalised
in stone, alongside those who are making waves today.
Beauty is a living Art.
This powerful campaign featuring House's ambassadors
Zendaya, Amanda Seyfried, Aya Nakamura and model He
Cong will be showcased worldwide from September,
including strong TV, digital presence, as well as out
of home.
Behind each Goddess, her strength.
Facing the sculptures, Lancôme ambassadors express the
Beauty reflected from the art piece that moves them.
Independent, strong, wild. Magnetic, radiant, genius.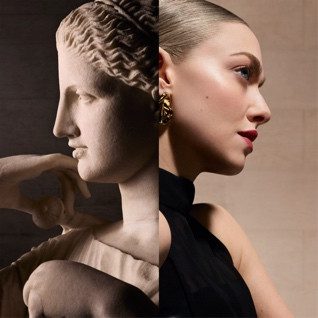 Amanda x Diane of
Gabies
Aya x Corine Hecong x Venus de
Milo
Zendaya x Venus
d'Arles
Lancôme x Louvre
2023 Limited edition collection
"It all started to emerge to me to form an overall,
incredible picture of colour. These incredible depictions
of female strength and power still resonate today."
Lisa Eldridge, Lancôme Makeup Creative Director
From the mesmerizing light of the Richelieu wing of the
Musée du Louvre to the smooth marble and stone of nine
sculptures chosen for the collaboration, Lancôme creates
a collection that highlights both the powerful stories
of the goddesses and the famous Richelieu Gallery of the
Louvre as an art work.
Art, reinterpreted by beauty.
Six statuesque editions. Marble white-on-black design.
Each a celebration of female divinity.
A curation at the essence of Beauty: for eyes, for lips,
for skin.
For eyes, the Richelieu Wing colour palette combines a
highlighter plus four unique shades of eyeshadows
inspired by the famed Richelieu gallery of the Louvre.
For L'Absolu Rouge, four unique shades of the cult lip
collection, each celebrating a female deity with a story
to tell. And for Génifique, Lancôme's skin health icon,
a limited edition featuring the Goddess Hygie in a choice
of two sizes.
The Richelieu Wing Palette for eyes
Retail price: RM 290
Corine, the palette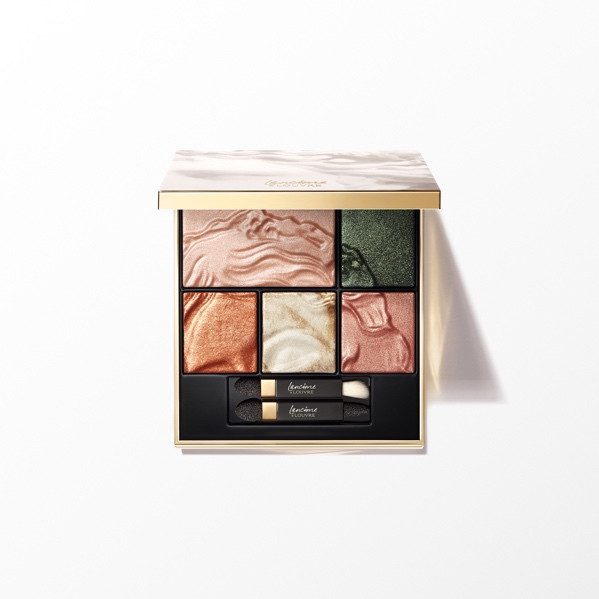 With this makeup colour palette, Lancôme celebrates the
sculpture of Corine, Greek poetess of the 5th century BC
presented in the Richelieu wing of the Louvre. The poetry
of this palette created by Lisa Eldridge, is inspired by
the gallery's magnetic light, punctuated by the relief
of the sculptures and revealing their silent but
astonishing beauty.
For the Richelieu Wing Palette, Lisa Eldridge chooses
Corine by Edme-Francois-Etienne Gois, a representation
of the heroine from the novel Corine by Germaine de Stael
(1807) as the cover image.
"It's a beautiful palette but it has a very empowering
story as well. Corine was portrayed as an aspirational
woman of creative genius and femininity. Yet you couldn't
be an artistic genius and a woman. '' Lisa Eldridge
Organic, poetic, the palette of shades inspired by the
magic light of the Richelieu Gallery is powered by a
technology designed for greater colour impact and
heightened shimmer.
Each shade takes its name from a different part of the
Richelieu wing and around; from eyeshadow the shade of
peridot inspired by the Cour Puget to the copper light
Cour Carrée; the marble shade of the Cour Marly to the
pink shade of the Royal Palace.
"The texture is very smooth, easy to blend. With these
hues, you can use as highlighter, from light to deep
skin tones, you could also use a mix. You can apply it
with a finger or a brush, on eyes, lips. The green shade
is striking – as a liner, or for a smokey eye.
I've chosen this design because of Corine, herself: it's
very much about her struggles because at that time you
couldn't be a genius and a woman; but she explained it
from a very feminine point of view, which was quite
unusual then."
For the Louvre campaign I wanted to create a look with
the palette that had a little drama. I chose to use the
deep green shade in a soft but graphic shape to create
a 'double wing' liner look along the upper lash line
and the outer edge of the lower lash. I combined the
eye look with a really fresh and radiant skin using the
highlighter in the palette to give extra luminosity. A
full rich lip completed the look for beautiful He
Cong.'' Lisa Eldridge
4 shades of L'Absolu Rouge lipstick
Retail price: RM 156 each
For lips to tell the mythical stories of antiquity and
embrace our own strength and beauty, in this
partnership with the Musée du Louvre, Lancôme creates a
L'Absolu Rouge collection inspired by the 4 chosen
muses within the art pieces of the museum.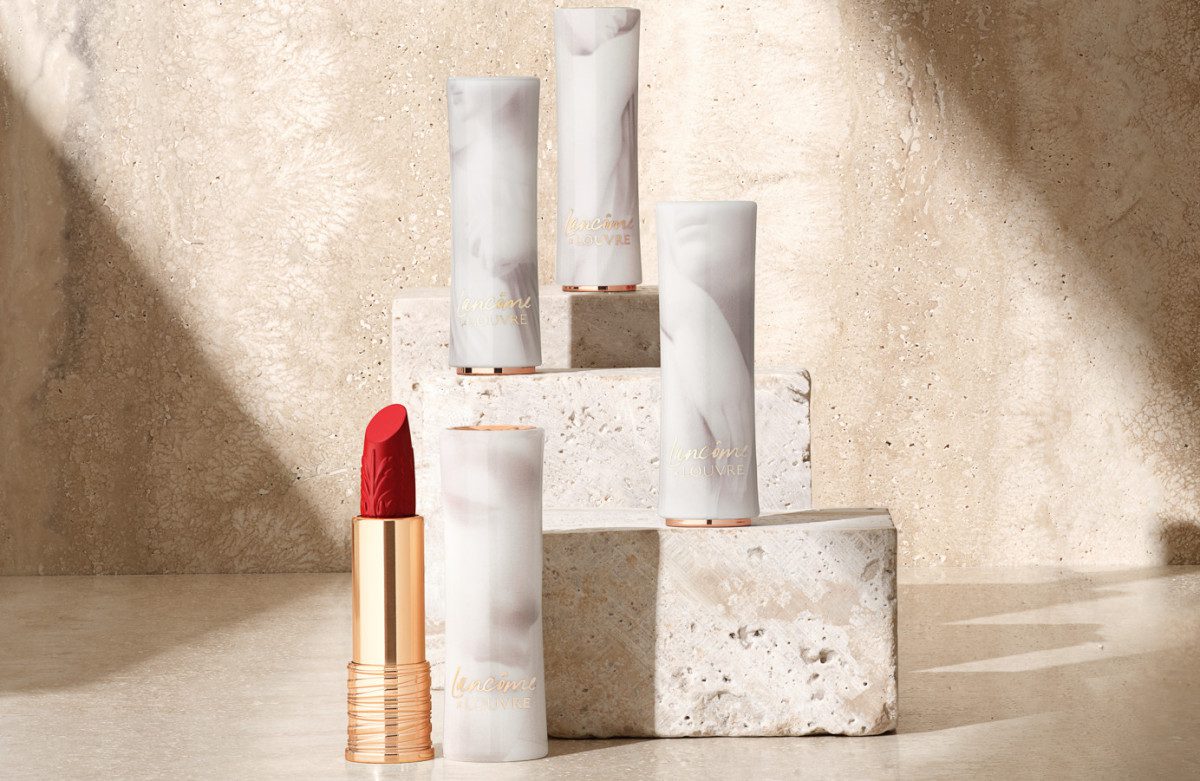 ● L'Absolu Rouge Drama Matte in shade 200 French Drama,
inspired by Sleeping Hermaphrodite
A shade born in the madness of a love so strong, when
two become one.
● L'Absolu Rouge Drama Matte in shade 274 French tea
inspired by Diane de Gabies
A cloak of colour inspired by the Goddess of the moon or
the hunt, L'Absolu Rouge Diane de Gabies is warm-toned,
medium orange shade with a matte finish.
● L'Absolu Rouge Drama Matte in shade 196 French Touch
inspired by Nymph with a Scorpion
May Nymph with a scorpion, soothe lips with L'Absolu
Rouge's Grand Rose ExtractsTM for delicate, luminous
beauty.
L'Absolu Rouge Drama Matte in shade 105 Celestial Rose
inspired by Nymph Echo
May her story echo on lips and none fall for a Narcissus
as she did. L'Absolu Rouge designed for a truth, removed
from human vanity.
At the heart of L'Absolu Rouge:
By fusing the most potent extracts of rose plants,
harvested by hand, every morning in late spring, Lancôme
delivers active ingredients. All our roses are sourced
through Lancôme's proprietary French savoir-faire: into
a trio of rose oils to create the creamy soft texture of
L'Absolu Rouge:
● Rosa Damascena Essential oil: Rosa Damascena is a rose
hybrid, derived from Rosa gallica and Rosa moschata; its
essential oil is extracted from rose petals by harvesting
the mature flowers at their peak.
● Rosa Centifolia extract: Commonly called the rose de Mai
for the month it comes into bloom, harvest in the region
of Grasse in the South of France and in the Domaine de
la rose Lancôme, this rose is handpicked on the day it
opens to capture its freshness.
● The Perpetual RoseTM: a phenomenon of nature with more
than 80 white, scented petals which holds anti-aging
properties. As if powered by the secret of youth, it has
an exceptional vitality and blossoms almost continuously
throughout the year on the Plateau de Valensole.
Lancôme's iconic Génifique serum inspired by Hygie
Retail price: RM 519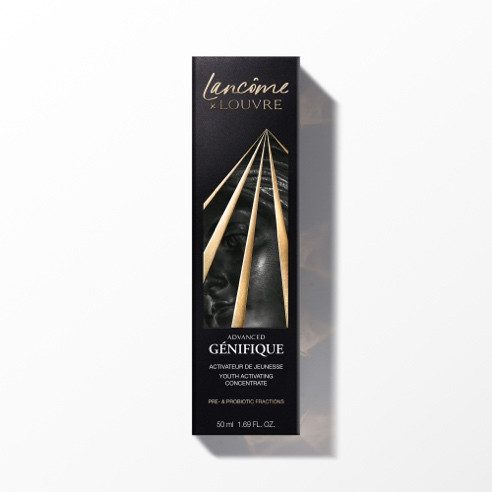 Representing health, the Goddess Hygie is the muse for
the Lancôme x Louvre limited edition of Génifique. As a
symbol of wellbeing, Hygeia is the inspiration for
Lancôme's Advanced formula for the health of the skin.
Génifique's remedial trio of ingredients Vitamin Cg,
Hyaluronic Acid and 10% Bifidus Prebiotic, is formulated
to restore skin radiance.
Transforming makeup into an Art statement
In the reading of renaissance beauty pamphlets written
by women, in her at-once classic and a modern
sensibility, in her approach to learn history through
the history of creativity, Lisa Eldridge, is both artist
and historian in beauty.
For this historic collaboration, Lancôme's Creative
Director immersed herself in the Richelieu gallery of
the Louvre, invited after closing time to be one-one-
one with humanity's greatest treasures, bathed in the most spectacular light.
The Lancôme x Louvre Collection will be available at
Lancôme's E-Boutique (Lancome.com.my) and Lancôme
Facebook Shop from 25 September, and at Lancôme
boutiques from 2 October.