FESYEN
Sekitar Karpet Merah & Penerima Anugerah CFDA Fashion Awards 2019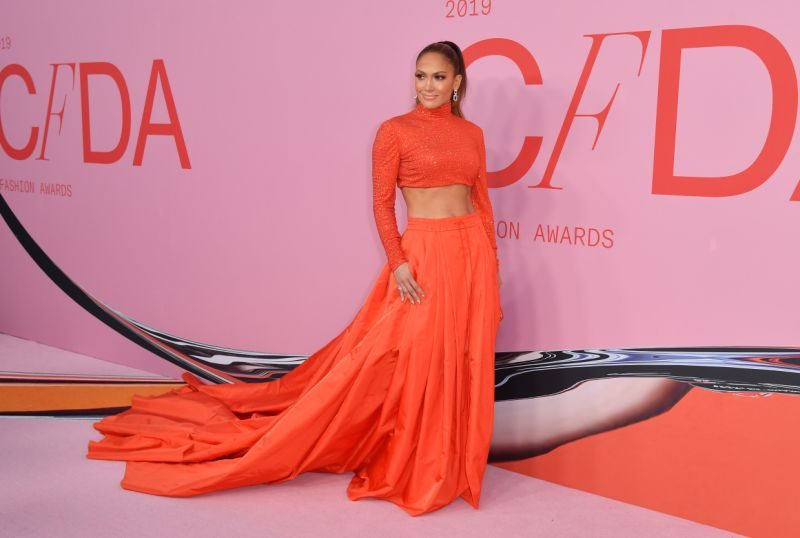 [vc_row][vc_column][vc_column_text]
Di satu petang, 3 Jun, para tetamu memakai pakaian termewah yang ditempah khas dan menyerlahkan potongan badan masing-masing ke karpet merah Anugerah Fesyen CFDA di Muzium Brooklyn di New York.
Anugerah Fesyen CFDA, satu acara yang bukan saja glamor tetapi juga penuh warna dan juga kesan metalik, tidak termasuk butiran berkilauan yang menaikkan lagi seri majlis. Lihat gambar ratu petang itu, Jennifer Lopez yang kelihatan menakjubkan dalam padanan oren – top berleher kura-kura dengan pinggang separa berhias kristal dan skirt sutera oleh Ralph Lauren. Cantik sungguh dia![/vc_column_text][thb_gap height="40″][vc_media_grid grid_id="vc_gid:1560348612089-95ebad44-f830-0″ include="9677,9679,9678″][thb_gap height="40″][vc_column_text]Ratu karpet merah ini menerima anugerah Ikon Fesyen CFDA. Dalam ucapannya menyebut, "Saya mengeluarkan rekod pada 90-an, dalam era waif dan supermodel, tetapi apabila saya diperkenalkan kepada insan hebat dalam bidang fesyen seperti anda yang berada dalam bilik ini, hidup saya berubah." Tambahnya lagi, "Berada dalam bilik yang sama dengan Oscar de la Renta, Versace, Dolce and Gabbana, Gucci dan anda yang lain di sini, yang membenarkan saya memakai ciptaan-ciptaan indah anda dan membenarkan ia membaluti tubuh badan saya ini, perasaannya lebih daripada seorang kanak-kanak yang teruja berada dalam kedai gula-gula."[/vc_column_text][thb_gap height="40″][thb_image full_width="true" alignment="center" lightbox="true" image="9676″][vc_column_text]
Brandon Maxwell bersama Lady Gaga di Met Gala
[/vc_column_text][thb_gap height="40″][vc_column_text]
Brandon Maxwell yang mencipta pakaian untuk Lady Gaga menerima anugerah Pereka Fesyen Wanita Tahunan. Baru-baru ini, Maxwell mereka empat pakaian untuk Gaga di Met Gala. Pada 2010 pula kreativitinya dibuktikan dengan dress daging mentah, juga dipakai Gaga, sebelum melancarkan jenama sendiri pada 2015. Selain penyanyi pop itu, klien Maxwell termasuk Michelle Obama dan Meghan Markle. Ucapan kemenangan Maxwell antara lain berbunyi, "Sebelum memulakan syarikat ini, saya bekerja selama 10 tahun sebagai penata gaya dan saya tahu bahawa kita semua adalah orang yang baik dan bekerja keras, malam ini kita mengenakan pakaian yang indah, tetapi 364 hari yang lainnya kita sibuk bekerja untuk membayar bil dan beruasaha menjadikan impian kita satu kenyataan."
[/vc_column_text][thb_gap height="40″][vc_media_grid grid_id="vc_gid:1560348844724-3bb108ef-0756-0″ include="9680,9681,9682″][thb_gap height="40″][vc_column_text]
Pemenang lain petang itu antaranya Bob Mackie untuk Anugerah Pencapaian Sepanjang Hayat; penyumbang editor dan penulis majalah Vogue Lynn Yaeger untuk Anugerah Media; Sarah Burton, pengarah kreatif di Alexander McQueen untuk Anugerah Antarabangsa Valentino Garavani dan Giancarlo Giammetti; Carine Roitfeld untuk Anugerah Pengasas; dan Mary Kate dan Ashley Olsen daripada The Row memenangi anugerah untuk Pereka Aksesori Tahun untuk kali ketiga.
[/vc_column_text][thb_gap height="40″][vc_media_grid grid_id="vc_gid:1560348994690-1a2bde7a-dc9c-9″ include="9683,9685,9684″][thb_gap height="40″][/vc_column][/vc_row]