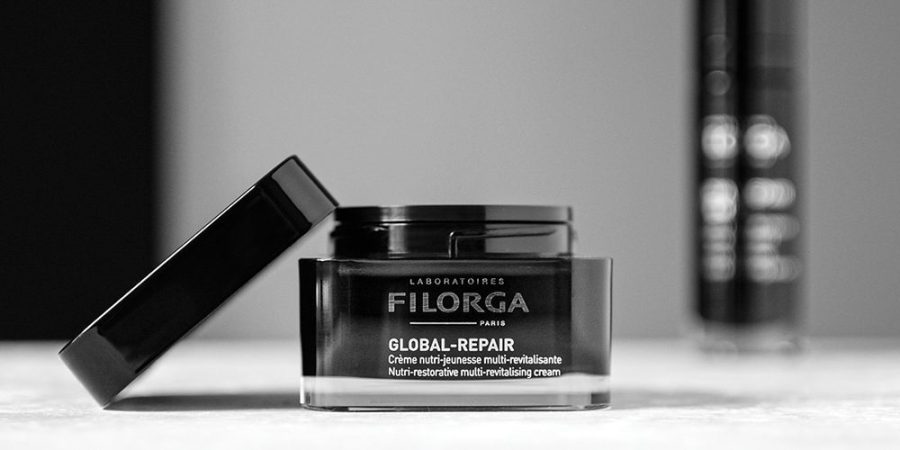 "What age is considered old nowadays."
WE ARE FLAT-AGERS: BYE-BYE BABY BOOMERS!
Today, the term "flat-ager" is rapidly gaining traction. Because age isn't just a number, it's a state of mind! Women start to feel old at the age of 73!* Free, energetic and radiant women, flat-agers are shaking off the shackles of their elders' conventions. Most of them are still at work or are making the most of their free time. Elegance and style are at the heart of their beauty concerns! But this state of mind is betrayed by their skin. In fact, the drop in hormones after the age of 50 related to menopause disrupts the skin on all levels. The skin loses vitality, its physiology changes and it becomes "mature". 
This change is characterised by two simultaneous factors:/UNDERNOURISHMENT AND SKIN EXHAUSTION
Mature skin is characterised by dryness, discomfort, and a general tendency to become marked from fatigue faster and longer. The cause? A decrease in the synthesis of ceramides and lipids, combined with skin that has "slowed down" and can no longer mobilise these components. > The solutions: cosmetic and nutri-cosmetic added nutrients (ceramides, lipids, vitamins, etc.), in skincare formulas and specialised dietary supplements to help to intensely nourish the skin and revitalise it.
AN INCREASE IN THE EFFECTS OF TIME ON THE SKIN
All signs of ageing are accentuated at the same time: wrinkles become more deeply entrenched, the skin slackens, the face becomes hollow and loses its volume, dark spots become more prevalent, and the complexion loses its radiance. The cause? Global dysfunction of cell processes: production of lower- quality hyaluronic acid, a disrupted collagen fibre network, thinning of adipose tissue, accumulation of melanocytes, and less efficient cell renewal.
The aesthetic solutions: 5 recognised aesthetic medicine techniques
1 – Fillers to fill wrinkles.
2 – Radiofrequency to combat sagging skin.
3 – Lipofilling to restore volume.
4 – Laser therapy to very accurately remove dark spots.
5 – Mesotherapy for instant, visible radiance boost.
These techniques are effective and radical, but can sometimes be too restrictive for flat-age
women living life at 100 mph!
What if, for the first time ever, all these leading techniques could be combined into one single cosmetic formula? What if, for the first time ever, we could rejuvenate lifeless skin in the bathroom with an anti-ageing product?
THREE (3) SUPER NUTRIENTS: REVITALISING NUTRITION!
A trio of three super nutrients, sourced from the best botanical oils and scientific discoveries to restore skin's suppleness and vitality. Super-ceramides: derived from scientific research, these ceramides are identical to the ones found in the skin and compensate for the reduction in physiological ceramides. They bind to the lipids in the epidermis to restore the skin's barrier function. Super-omegas: found in evening primrose oil, which is rich in omega-6 and jojoba oil, which is rich in omega-3 and -9, these fatty acids strengthen the hydrolipidic film, boost cell renewal and revitalise the skin.
Super-vitamins: the Intensive Repairing Factors also contain a super cocktail based on camellia oil rich in vitamin E and borage oil rich in vitamins A, D and K to boost skin defences and regenerates the skin. The skin is intensely nourished and completely comfortable.
50 MESO-INGREDIENTS + 4 CELL BOOSTERS: GLOBAL ANTI -AGEING ACTION
A combination of the best leading active ingredients inspired by the five most renowned aesthetic medicine techniques to tackle all the signs of ageing:
1 – RADIANCE: 50 illuminating miso-ingredientsNCEF, formed of 50 poly revitalising ingredients (vitamins, antioxidants, coenzymes, etc.) used in injectable mesotherapy, boosts cellular function: the complexion is fresh and radiant!
2 – WRINKLES: filling hyaluron-booster
Reticulated hyaluronic acid in the form of filler-like spheres that plump the skin and correct wrinkles: the skin is immediately smoother!
3 – FIRMNESS: lifting collagen-booster
A peptide complex inspired by the technique of radiofrequency, which boosts collagen synthesis and stimulates the structure of skin fibres to restructure the dermis: the skin is denser and firmer!
4 – DARK SPOTS: unifying clear-booster
A complex of five brightening active ingredients inspired by laser techniques, which specifically act on dark spots thanks to an ultra-targeted vectorisation system: the
the complexion is completely unified!
5 – VOLUME: plumping adipo-booster
A resculpting botanical extract inspired by the technique of lipofilling stimulates the storage of lipids in the adipocytes to increase the thickness of the adipose tissue: the volumes of the face are restored!
GLOBAL-REPAIR:
AN ALL-INTENSIVE FEAT OF FORMULATION!
FILORGA has developed a genuine youth-coaching cosmetic programme for women that want their skin to look as young as they feel. It treats all the concerns of their lifeless skin with an all-new core formula: Intensive Repairing Factors.
A genuine feat of formulation, this complex combines the best cosmetic nutrients with ultra- specialised ingredients to mimic the effects of aesthetic medicine for a spectacular rejuvenating action!
INTENSIVE MEDICAL OFFICE-LIKE MULTI-REVITALISATION
INTENSIVE REPAIRING FACTORS
[50 meso-ingredients + 3 super nutrients + 4 cell boosters]
GLOBAL-REPAIR EYES & LIPS:
MULTI-REVITALIZING EYE & LIP CONTOUR CREAM
A NEW concentrated multi-active cream designed specially for eye and lip creases, inspired by recognised aesthetic medicine techniques to create a visible and intensely rejuvenation effect [dark circles, puffiness, wrinkles, dehydration, sagging skin].
GLOBAL REPAIR EYES & LIPS (RM427, 15ml) is formulated intensive repairing factors [50 meso- ingredients + 3 super nutrients + 4 cell boosters] with a microcirculation-activating tuberose extract to give an intensive rejuvenating effect on the eye contour and smoothing sesame seed extract to redefine the lip contour.
Radiance, dark circles, puffiness, crow's feet wrinkles, barcode wrinkles and nasogenian furrows… treat all the signs of ageing in one step!
HOW TO USE?
In the daytime and/or evening, apply a thin layer of the lightweight melting cream to the eye.
GLOBAL-REPAIR: INTENSIVE ANTI-AGEING
PROGRAMME IN 4 STEPS !
1 – GLOBAL-REPAIR ESSENCE, RM327
A SPLASH OF NUTRIENTS TO
PREPARE THE SKIN
Lotion by day / Cotton mask
by night.
Enriched with lipid-
replenishing brown seaweed extract for an ultra- nourishing action.
The unique and sensory anti- aging gesture is ultra-addicting!
2 – GLOBAL-REPAIR INTENSIVE, RM505
AN EXPERT SERUM FOR AN INTENSIVE ACTION
Serum by day / Mask by night.
Enriched with very special rejuvenating agents: smoothing retinol and energising glycogen for enhanced effectiveness.
A spectacularly powerful rejuvenating shot!
3 – GLOBAL-REPAIR EYES & LIPS, RM427
THE ULTRA-TARGETED DOUBLE AGENT
Cream by day and night. Enriched with a duo of powerful plant-based active ingredients that activate microcirculation and a smoothing effect for a targeted action on the eye and lip contour area. The great beauty ally!
4 – GLOBAL-REPAIR, RM490, MULTI-ACTIVE CREAM FOR
LASTING RESULTS
Cream by day / Mask by night.
Enhanced with a long-term anti-ageing system that regenerates skin and protects it from oxidation for a lasting rejuvenating effect. Supreme anti-ageing to halt skin ageing!