FESYEN
Kate Spade: Rediscovering Your City. Rediscovering Your Style. Rediscovering Yourself.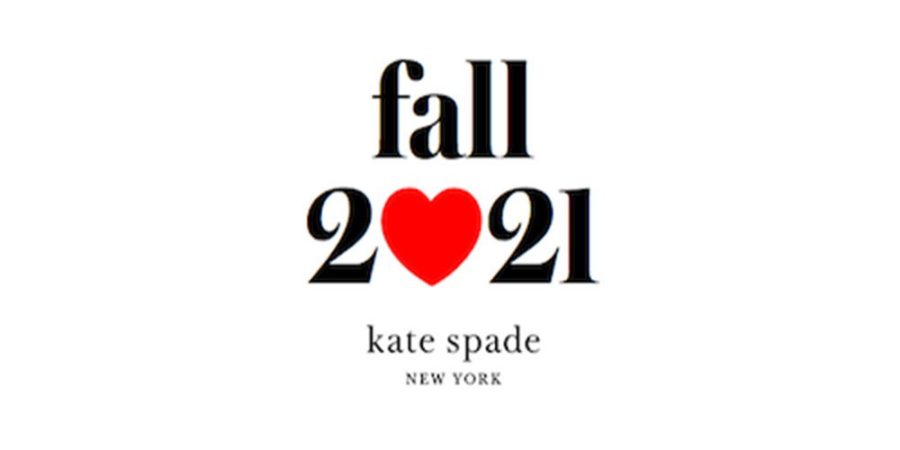 As we designed our fall collection, we were thinking about all the ways we'll be getting back
into the groove of life. Rediscovering your city. Rediscovering your style. Rediscovering yourself. It's all going to feel familiar and also new.
Kate Spade originates from New York which is electric and vibrant, with all kinds of colorful
characters. We pay homage to the state's iconic "I LOVE NY" this season, along with some other feathered friends and big apples. They're mixed with heritage elements of our own, like checks, animal prints and our spade flower.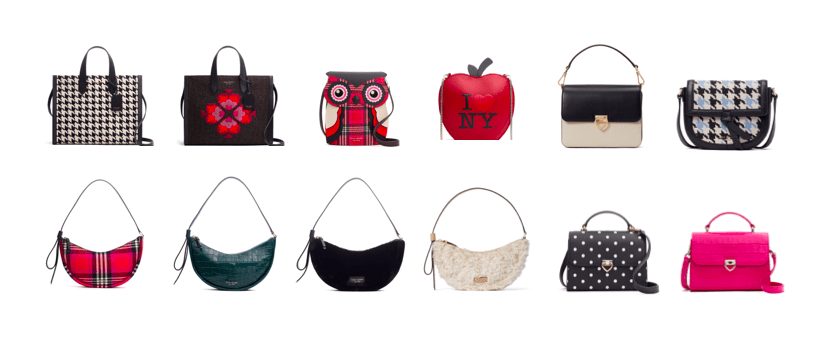 Handbags & Small Leather Goods (SLGs)
This season, we play with a mix of prints grounded alongside graphic colors and new neutrals.
Every style has animation and unexpected details, and we've reimagined core silhouettes for
now. We give a big hug to New York with a special "I LOVE NY" capsule collection. In 1977,
Milton Glaser drew this iconic logo in the back of a yellow taxi, and today it represents travel
across the entire Empire State. We focus on weaving our core brand codes for Fall across the collection: our signature spade flower print, classic menswear fabrications, bold animal prints and cheerful novelty. The collection is eclectic, vibrant, and full of interesting characters.
We debut two new iterations of our Spade Flower Jacquard for Fall, a cream and black
colorway topped with a pink and red racer stripe, and a black and white pattern scattered with red embroidered hearts. The new designs come in four new shapes this season, including a camera bag, a drawstring crossbody bucket bag, a new flap backpack, and a large weekender duffel.
Brand new for the season is our Manhattan Tote, continuing our rich partnership with famed
Italian mill, Limonta. Available in pink plaid, a spade flower motif made up of various textures, a velvety chenille houndstooth, and a wool plaid, this tote fits everything one would need for a day of exploration. With function in mind, the tote features a soft handle and crossbody strap – making it easy and comfortable to carry everything from a laptop to a spare pair of heels.
Also new for the season is Lovitt, a polished top-handle shoulder bag that is available in two
distinct sizes. Lovitt features a smaller, more delicate evolution of our iconic spade hardware.
It comes in smooth, softly grained and croc-embossed leathers as well as polka dots, in an
array of vibrant colors.
New for core is our Zip Code, featuring an updated casual silhouette that can be used as a
work satchel or for weekend adventures, and is available in an assortment of solids and
colorblock pattern and haircalf. Buddie is an easy double-gusset crossbody with a feminine,
rounded shape and a wide webbing strap. Available in fun pops of color and a menswear
check, she is your best bud – you won't want to go anywhere without her. Finally, in the Knott group we add a new modern shoulder silhouette made in a range of buttery pebbled leather.
In novelty, we have Blinx, a functional, eye-catching crossbody in the shape of an owl with
layers of texture. The "I LOVE NY" capsule features the iconic emblem design reinterpreted in a modern and elevated way through beautiful techniques, and layered into our fashion forward silhouettes, like the Manhattan Tote and Buddie crossbody. Continuing our New York theme, key fobs and coin cases have been designed in the shape of pretzels, hot dogs, taxi cabs and Metro Cards to round out the assortment.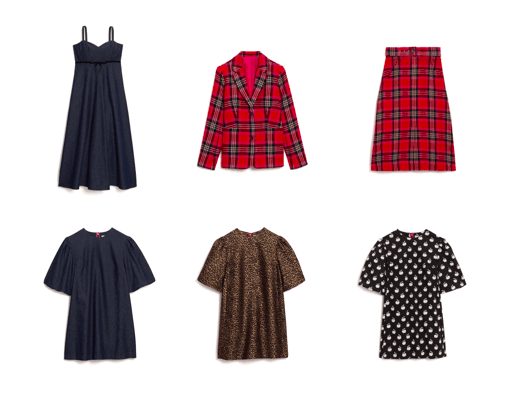 Ready-To-Wear
Well-loved brand codes shine through in playful, feminine details like ruffles, smocking and
tiering that combine the ease of 70s couture with comfort and effortless design. Versatile
occasion dresses and separates combine glamour, soft structure and tailoring to make a
collection of spirited pieces, while allowing women to mix and match or incorporate pieces
from their own closet. Our Denim Bow Waist Dress reimagines a typically casual fabric to
be a feminine occasion dress. Our Taxi Dress is the ultimate silhouette to take you from day
to night.
Jewelry
From pretzels and taxis to the iconic apple, this season's jewelry collection continues our Love
Letter to New York. The iconic NY symbol, an apple, is the inspiration for a range of styles
created in red pave to be the perfect pop. Our Shining Spade group is a gorgeous evolution
of the modern pearl with an element of charm. Something Sparkly is a new logo evolution
that we debut this season. We continue to reinvigorate the Spade Flower motif in a brilliant
cut stone with a spade flower cage setting across studs & huggies.
Shoes
For Fall, footwear is ready to take our girl anywhere and everywhere! Brand codes shine in the
assortment with leopards, spade flower jacquard, velvet, dots and this season's owl novelty
seen throughout. We introduce Meg, our new favorite flat that goes from day to night. She is
available in elevated materials with pop color linings and topped off with a crystal button.