FESYEN
Dior Men Pra Musim Luruh 2020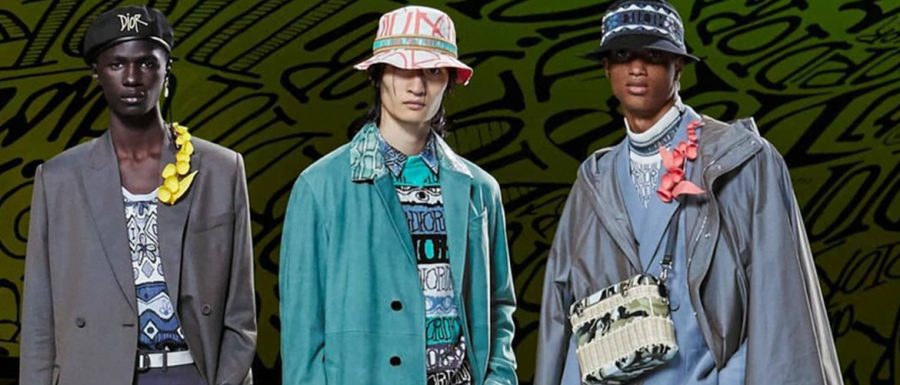 [vc_row][vc_column width="1/2″][vc_column_text]
Biarpun beberapa hari sudah berlalu, kehangatan pertunjukan fesyen Dior Pre-Fall 2020
menswear
masih membahang dan menjadi bualan kelompok pencinta fesyen.
Miami menjadi lokasi acara gilang-gemilang ini dilangsungkan. Dan tetamu jemputan juga bertaraf gemilang belaka seperti Kim Kardashian bersama kakaknya Kourtney, selain David Beckham, Pusha T, James Blake dan Maluma yang mana petang itu mereka menjadi saksi kepada koleksi lelaki paling baru Dior Men.
Perekanya, Kim Jones tidak diperlu diperkenalkan lagi, berikutan resume yang kuat semenjak bersama Louis Vuitton lagi, dan dengan kepandaian dan pemahamannya tentang fesyen lelaki, dia tahu bagaimana mencipta magis buat rumah fesyen yang cukup ikonik ini.
Dalam satu temuramah selepas berakhirnya pertunjukan, Kim Jones antara lain berkata, "Today, people buy what is the best, jadi saya menyempurnakan rekaan buat semua golongan, from street wear to couture dan lelaki yang menyarung Dior layak sekali dijulang tinggi." [/vc_column_text][/vc_column][vc_column width="1/2″][thb_image full_width="true" alignment="center" lightbox="true" image="10965″][/vc_column][/vc_row][vc_row][vc_column width="1/3″][thb_image full_width="true" lightbox="true" image="10961″][/vc_column][vc_column width="2/3″][thb_gap height="40″][vc_column_text]Jika sebelum ini Kim Jones pernah berkolaborasi dengna beberapa artis seperti  Daniel Arsham dan Hajime Sorayama, kali ini Shawn Stussy dijadikan pilihan dan personaliti dan peanmpilannya dijadikan inspirasi pelengkap buat koleksi pra musim luruh dan sejuk 2020 ini. 
Yang best dalam koleksi pre fall ini adalah tas tangan monogram Dior Oblique yang direka khas untuk lelaki. Selain beg jenis bimbit, turut ada beg silang bahu bertali pendek yang merupakan trend panas sekarang dan pastinya menjadi buruan di rak Dior. Selain itu, yang bakal hit tentu sekali sneakers kolaborasi dengan Air Jordan yang diberi nama Air Dior. Dengar khabar ia hanya dikeluarkan hanya 1,000 pasang sahaja. Ehem… pasti penggila sneakers di luar sana tidak lena tidur, ataupun kalau nyenyak pasti termimpi-mimpi melangkah dalam sepasang Air Dior.[/vc_column_text][/vc_column][/vc_row][vc_row][vc_column][thb_gap height="40″][thb_image full_width="true" alignment="center" lightbox="true" image="10962″][thb_gap height="20″][vc_column_text]
Air Dior Sneakers
[/vc_column_text][thb_gap height="40″][/vc_column][/vc_row]