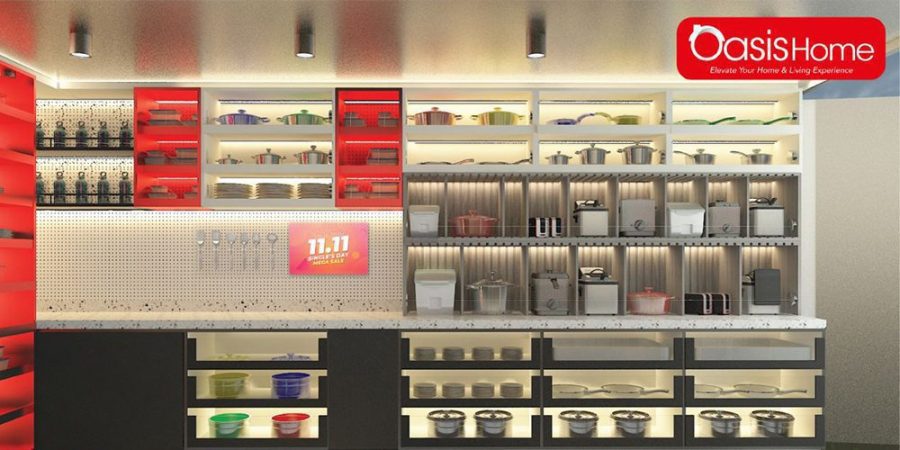 The Oasis home launch event was held at Four Seasons Hotel Kuala Lumpur. With the theme of " Metaphor 3.0″, the conference perfectly interprets the progress and innovation that Oasis Swiss has been upholding since its inception, and leads you to experience a journey of Oasis Swiss's transformation. 
This conference is highly valued by people from all walks of life..The chairman and general manager of the company attended the event, joined by major online streamers, more than 60 dealers, and media members from all over the world, setting off a wave of attention towards the new OasisHome App. This will undoubtedly bring a consumer trend of advocating classics and individual fashion to all ages, from the young to the middle-aged today.
The new product launch kicked off at 11:00 am on May 9th. Chairman of Oasis Swiss, Dato Jaden Teoh gave the opening speech and extended a warm welcome to everyone. Meanwhile, Oasis Home brand ambassador "Axian" (Jason Yeoh) was also invited to give a congratulatory message and cook with famous actress Tong Bingyu on stage, making the event a complete success.
The promotional video and application demonstration of the Oasis Home App was played at the event. At the same time, it was a re-launch to recruit new dealers. On top of that, the agenda includes OasisHome App download, new products display, mobile truck, performances, dealer award ceremony, and media interviews. It gives everyone a deeper understanding of this OasisHome App.
Oasis Home products are not only sophisticated and varied in design, but the most important feature is their inherent quality. It adopts a number of self-patented splicing processes and devices, and is suitable for men and women of all ages. It is undoubtedly the core value of Oasis Home..
Oasis Home insists on promoting durable, practical and well-designed products to customers at the best price, as we are dedicated to the ultimate, true and pious philosophy; that love is evident in everything we deliver. Every creation is the achievement of a masterpiece that will be admired by the owner and praised by onlookers..
About Oasis Swiss
Oasis Swiss Sdn Bhd is an importer, distributor and wholesaler of household and kitchen products in Malaysia. Oasis Swiss Sdn Bhd has more than 100 counters in major department stores in Malaysia, selling international brands of household goods and kitchen utensils. Oasis Swiss is constantly seeking to deliver energy saving, easy-to-use products that feature contemporary design and the latest cookware technology, while also making our products available on Facebook Live.
Oasis Swiss Award
Sin Chew Business Service Excellence Awards Platinum Business Awards 2017 Elegante International Business Award 2017/20 Golden Eagle Award 2018 Nanyang Siang Pau 95th Anniversary Outstanding Business Award Golden Bull Award 2019 – Outstanding SME Award The Malaysia Book Of Records (Highest Number Of Cookware Sales Value In A Facebook Live Broadcasting In 1 Hour) SOBA Award 2020 – Best Use Of Technology Golden Bull Award 2021 – Outstanding SME Award JCI CYEA Top 10 2021 SME100 Award 2021 – The SME100 CTOS Credit Excellence Award SME100 Award 2021 – 2021 SME Fast-Moving Companies Award Best Brand Award 2021 – Gold Best Used of Technology 2021 – Platinum Grand Award Malaysia Best Business of the Year 2021.