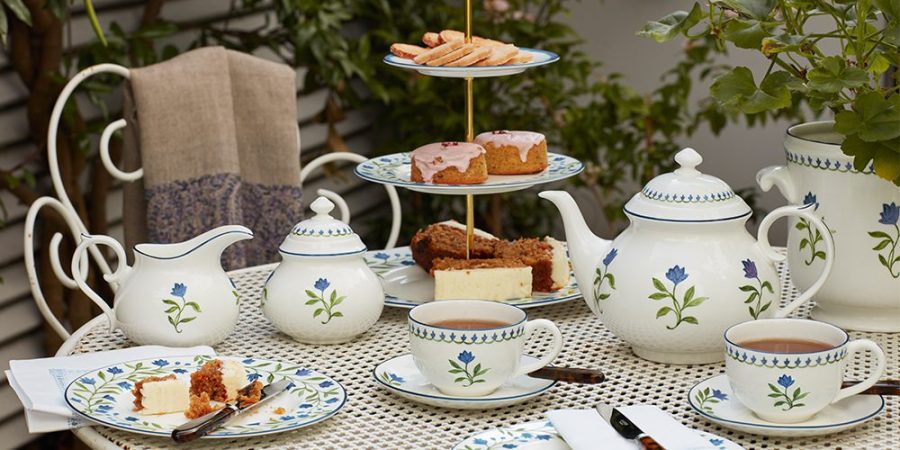 Aidilfitri menjelang tiba. Masa meraikan tetamu setelah lebih setahun negara sepi. InshaAllah tahun ini kita dapat bergembira bersama sanak saudara, rakan dan teman yang sentiasa dekat di hati.
Meraikan mereka, pasti mahu menghidangkan makanan yang paling enak, dan tiada yang membuat tetamu lebih berasa diraikan bila hidangan serba mewah di meja dan bila bekas hidangannya seperti menyambut maharaja. Pasti ia menjadi kenangan paling abadi.
Kolaborasi antara Nina Campbell and Halcyon Days bersatu dalam harmoni. Nina Campbell, pereka hiasan dalam paling berpengaruh lagi dihormati, menyediakan set minum petang dan dinnerwear secara eksklusif untuk Halcyon Days.
Diberi nama 'Marguerite' dan 'Serengeti' koleksi adalah ilham daripada kecintaan Nina terhadap alam semulajadi, kala melancong dan penggambaran. Set hidangan daripada Bone China, diukir tangan in Stoke-on-Trent in England, ilustrasi daripada kenangan kala menikmati hidangan di kawasan luar restoran pada musim panas sambil menikmati keindahan alam semulajadi.
The Marguerite Collection
A vision to behold, the Lithodora Diffusa in 'Heavenly Blue' is an evergreen plant, which grows in garden borders, and its vivid blue, star-shaped blooms are peppered amongst a mat of leafy green foliage.
This plant was the perfect source to use for this collection with the flowers decorating the borders of the English fine bone china, complemented with a matching blue gilded edge.
The Serengeti Collection
Bamboo shoots, tall grass, animals of the Serengeti, and basketweave illustrations adorn the tea, coffee, and dinnerware, which once laid together, makes for an imaginative setting. Ideal for entertaining with loved ones, where you and your guests share treasured memories and plan to explore and embark on adventures to bucket-list destinations.