FESYEN
BEAUTÉS DU MONDE: CHAPTER TWO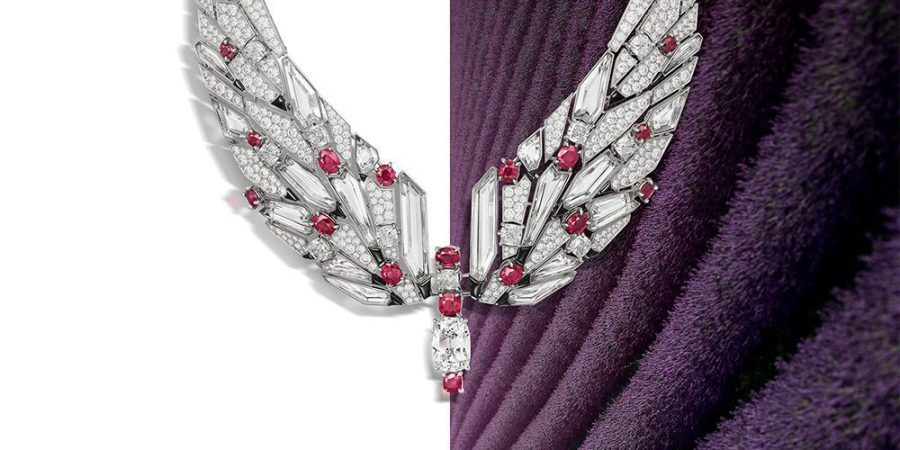 Cartier recognizes the beauty of the world wherever it may be. It is a true vocation inherited from the Cartier brothers who travelled the world, observed and drew inspiration from it, then reinvented it, taking care to always add their artistic touch and savoir-faire. Seeing the beauty of the world, preserving it, and above all, enriching it, are values that have continuously influenced the Maison's philosophy. The latest Beautés du Monde High Jewellery collection continues this tradition.
CYMBALE NECKLACE
Cartier is particularly fascinated by insects because their anatomy concentrates a multitude of details into a miniature space. Among them, Cartier gives prominence to the cicada and conveys its delicacy in the form of a necklace made of diamonds, rock crystal, rubies and onyx. How could one capture the transparency of the cicada's wings? By choosing rock crystal, for its translucent material but also for the way it brings the light to life when faceted, producing a vibration that evokes the cicada's song. The translucency of the gem requires an invisible structure to which the designs are attached.
RYU NECKLACE
The structure, material and pattern of dragon skin all inspire Cartier. This necklace is made up of 80 yellow diamonds weighing approximately 79 carats, together forming the scales of this fantastic reptile that serves as a link between Heaven and Earth. The faceting of the octahedral gems, a rare cut that is seldom found in jewellery, enhances and intensifies the radiance of each individual stone. These intense, luminous diamonds are embedded within hexagonal designs of white gold paved with diamonds, which together form a geometric mesh. This illustrates Cartier's passion for gemstones with character and distinctive forms.
FOUR BROOCHES FROM THE BEAUTÉS DU MONDE COLLECTION
A number of brooches completes the Beautés du Monde collection. Their inspiration can be seen in their delicate and refined nature, curiously and thoroughly transformed through the eyes of Cartier into High Jewellery creations.