FESYEN
Sacoor Brothers Official Fashion Outfitter of Portugal National Football Team for World Cup 2022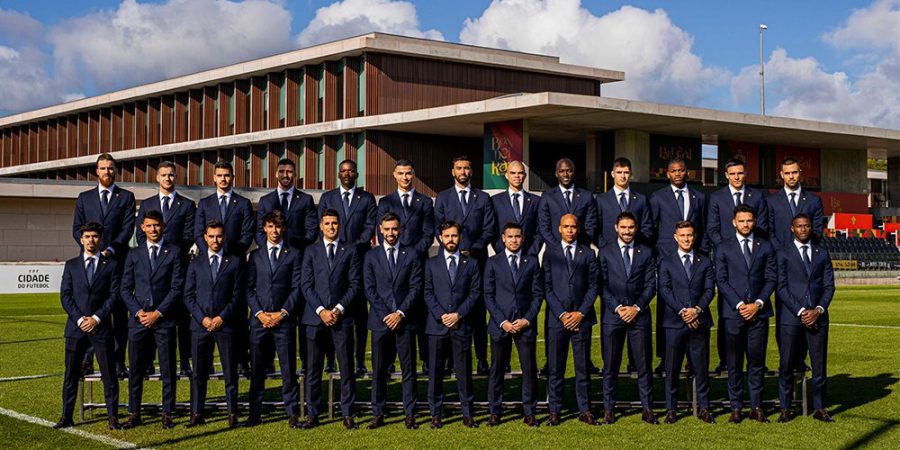 Sacoor Brothers is proud to be the Official Fashion Partner for the Portugal Football Federation in conjunction with FIFA World Cup 2022. Players from the
Portugal national team will be sporting Sacoor Brothers suits throughout the World Cup matches held in Qatar this year.
The Portugal National team players can be seen looking dapper in their elegant and modern Sacoor Brother suits. The full look consists of a navy blue suit made up of 9 elements (a blazer, trousers, sweater, shirt, parka, vest, tie, belt, and shoes) all proudly made in Portugal.
The suit embraces national symbolism by including colours and details of the Portuguese flag. It is tailor-made, with unique features and top quality materials to fit like a second skin. Each suit was made to measure for each member of the team, as well as the technical team. A personalised pin with the Federação Portuguesa de Futebol (FPF) monogram can be found on the lapel, while the loops on the jacket and pants are designed with the colours of the Portugal national flag. Among the many stand out details, is a chest pocket designed to keep sunglasses.
The tie worn with the suit also has the FPF logo monogrammed as a pattern. Each blazer comes complete with an inside label of the brand logo and the initials of each player. The style of the suit is a perfect balance between classic and modern silhouettes and is crafted using high-performance Italian fabrics — making the suit light and comfortable to wear. Thanks to its resistant and high-performance fibre, this fabric guarantees an unrivalled elegance in any situation, and assures an impeccable fit.
These special edition suits are now available for purchase for a limited time at Sacoor Brothers boutiques in Pavilion Kuala Lumpur and Suria KLCC.