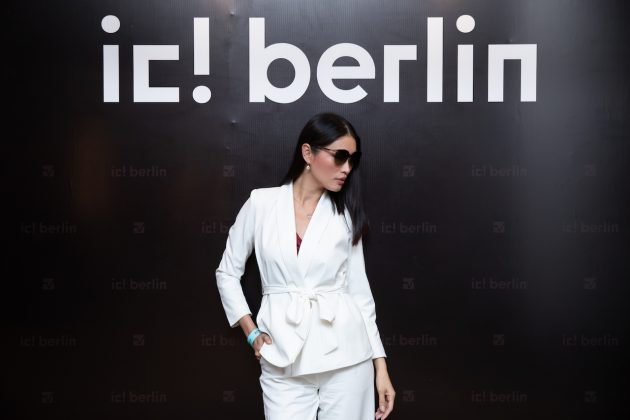 [vc_row][vc_column][vc_column_text]
Ic! Berlin
We are Ic! Berlin
We are a global group of designers, craftsmen, engineers, and thinkers. 
And most of all we are naturally curious.
Di dalam ruang industrial di daerah Berlin Marzahn, kami mengeluarkan produk kaca mata, yang bukan sekadar kaca mata biasa tetapi kaca mata yang paling berseni, dengan rupa bentuk yang pelbagai, sesuai peredaran semasa, rekaannya untuk insan yang mengagumi keindahan kesenian pertukangan tangan.
Ic! berlin  asli, kuat, dengan bingkainya ringan, tanpa skru dengan rekaannya ringkas namun cukup bergaya lagi sleek. Maka itu  memakainya menjadi amat sesuatu.
Ic! Berlin dan Studio Sebastian Herkner melancarkan koleksi Capsule.
Koleksi Ic! Berlin x Studio Sebastian Herkner Capsule mengandungi empat model untuk uniseks, dua cermin mata (preskripsi) dan dua kaca mata hitam. Setiap satu dengan tiga warna berbeza. Semua dalam material yang berkualiti tinggi, elegan dan moden bagi melahirkan kelainan kepada setiap pemakai.
Ic! Berlin yang dihasilkan di Berlin memulakan pengeluarannya pada 1996, semuanya dihasilkan oleh tangan-tangan yang berseni. Kini dijual di lebih 60 negara di dunia.[/vc_column_text][thb_gap height="40″][thb_image full_width="true" alignment="center" lightbox="true" image="11034″][thb_gap height="20″][vc_column_text]
Andre Amir memakai kaca mata Ic! Berlin x Studio Sebastian Herkner Capsule
[/vc_column_text][thb_gap height="20″][vc_column_text]
Silmo 2019 Ic! Berlin dengan 20 model baru ke Paris
Kaca mata inovatif ini akan memperkenalkan 22 model terkini di Silmo Paris. Bingkis Avus daripada koleksi ini telah pun dicalonkan untuk Silmp dOr Award dalam kategori "sunglasses: Eyewear Designer."
Dan bersama koleksi Capsule terdapat juga koleksi klasiknya didatangi 12 model (lapan preskripsi dan empat sun frame.) Reka bentuk dinamakan sempena nama keluarga dan kawan-kawan komuniti Ic! Berlin yakni Aldo M, Fadi Z, Hania L dan Irina R juga daerah di Berlin (Mitte, Moabit. P-Berg dan X-Berg dan tempat-tempat popular di ibu negeri di Jerman iatu Grunewald, Mauerpark, Hezerberge dan Hasenheide.
Pelancaran Ic! Berlin di Malaysia dibuat sangat istimewa. Sebuah dewan dihias indah dengan rak kaca mata yang terkini dan di satu ruang pula ada hiasan kaca-kaca lama dengan reka bentuknya yang klasik, dan yang unik untuk tetamunya daripada kalangan selebriti dan personaliti terkenal tanah air. Pastinya petang yang indah itu menjadi kenangan manis pada para tetamu yang hari itu adalah orang pertama yang dapat melihat koleksi terkini Ic! X Studio Sebastian Herkner.
Mengenai Perekanya
Sebastian Herker telah dianugerahkan Designer of the Year 2019. Beliau berkelulusan dari Academy of Art and Design di Offebach. Pengalaman berharganya bersama pereka terkenal Stella McCartney yang melahirkan minatnya lagi kepada keindahan bentuk, tekstur dan warna sebagai elemen penting pada setiap rekaannya kini.[/vc_column_text][thb_gap height="40″][thb_image full_width="true" alignment="center" lightbox="true" image="11033″][thb_gap height="20″][vc_column_text]
Ryzal Jaafar, Kate Davies, Azrel Ismail, Jimmy Ong-Shima-Anuar memakai kaca mata Ic! Berlin x Studio Sebastian Herkner Capsule
[/vc_column_text][thb_gap height="20″][/vc_column][/vc_row]