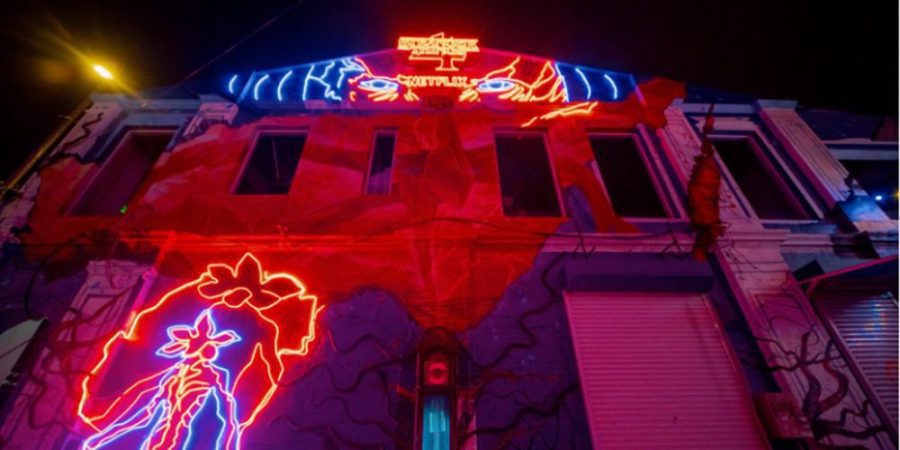 The long-awaited Season 4 of Stranger Things has finally arrived, and with it, so has the Upside Down.
Blurring the line between reality and fiction, Netflix brought the #BalikKeTerbalik experience beyond the confines of your screen to the heart of Kuala Lumpur, where the dark forces within the Upside Down threaten to take over KL Tower and Kwai Chai Hong.
Alongside 14 other iconic landmarks across the globe, KL Tower served as a canvas for the Upside Down upon sundown with a projection show teasing scenes from Seasons 3 and 4, before the Rift cracked open and unleashed the monstrosities that had been lying in wait in the Upside Down. 
In addition to the projection shows, there were also photo opportunities aplenty on the lawn of KL Tower. At the foot of the Tower, a Stranger Things 4 sign greeted fans with vibrant neon lights before they continued past the tower to a recreation of the mysterious Creel House, complete with true-to-series props and the house's ominous grandfather clock.
At the end of their sojourn through Creel House, they also came face to face with Vecna — the big bad of Season 4 — alongside the Mind Flayer and Demogorgon.
The gateway to the Upside Down at KL Tower was open to the public from 27 to 29 May, with the projection show playing in 30-minute intervals between 8pm and 12am.
The power of the Upside Down has also spread to a heritage area located just a few kilometres away, starting with a mural installation at Kwai Chai Hong. Created by Malacca-born artist Amir Andhar, or better known as @andha.ras on social media, the mural is sectioned into different "rooms" inspired by key moments from the past seasons.
Keep an eye out for the shift when the sun sets — by nightfall, the Upside Down becomes apparent as the mirror dimension's monsters such as the Demogorgon, Mind Flayer, and Season 4's Vecna step into the light.
The journey continues through the heritage alley of Kwai Chai Hong, where the area's usual lighting has been replaced by the Byers' iconic alphabet Christmas lights. Let the trail of lights lead you over the bridge into the Upside Down to another Rift opening in a deep corner of the laneway.
Check out the impressive mural and experience the Stranger Things takeover at Kwai Chai Hong from now until 12 June between 9am and 12am daily.
About Stranger Things 4
It's been six months since the Battle of Starcourt, which brought terror and destruction to Hawkins. Struggling with the aftermath, our group of friends are separated for the first time – and navigating the complexities of high school hasn't made things any easier. In this most vulnerable time, a new and horrifying supernatural threat surfaces, presenting a gruesome mystery that, if solved, might finally put an end to the horrors of the Upside Down.