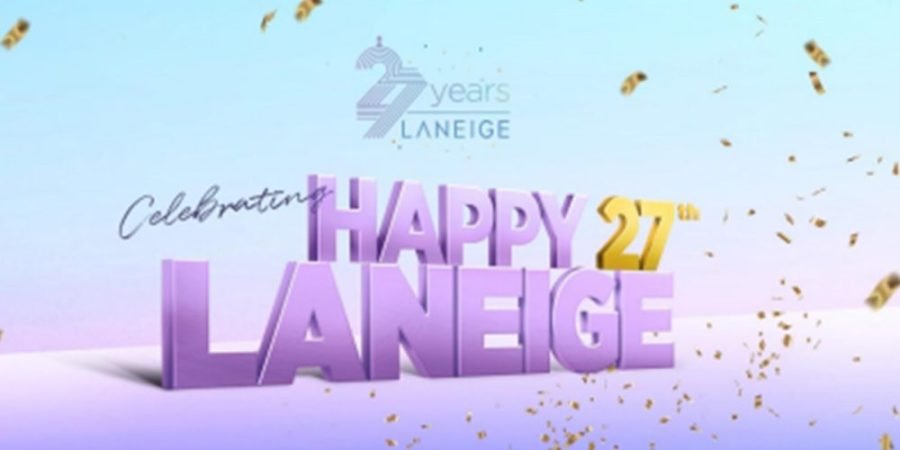 LANEIGE unveils their new slogan "FEEL the GLOW" in line with their 27th Anniversary. The new slogan, FEEL the GLOW, conveys the message of 'Radiance on my skin, confidence in my life'. LANEIGE has accumulated over many years of research studying the skin problems especially on issues related to lack of hydration that can develop in the various lifestyles of the customers. It has evolved into a brand that provides solutions for these problems further strengthening LANEIGE's exclusive five functional solutions loved by consumers all over the world (moisturizing, brightening, anti-aging, sleeping care, and base make-up). Above all, LANEIGE embraces diversity and respects the unique glow that each individual has, instead of providing one-size fits-all beauty solutions. LANEIGE seeks to provide distinctive solutions to customers that not only helps their skin glow, but also infuses their life with positive radiance.
"LANEIGE has been pinpointing the exact needs of customers in step with the changing times and has provided differentiated solutions based on our expertise in hydration. The development of the new slogan embodies our aspiration to disseminate the value we'd like to deliver to our customers." said Hye-jin Chung, the head of the LANEIGE brand unit
LANEIGE LIMITED-EDITION LIP SLEEPING MASKS
To celebrate its 27th anniversary, Laneige is launching its cult-favourite Lip Sleeping Mask in 2 Limited-Edition flavours – Peach Iced Tea and Gummy Bear in addition to the current best-selling flavours in Berry, Grapefruit and Apple Lime. The Lip Sleeping Mask is enriched with vitamin C and antioxidants, Berry Mix Complex™ that offers a nutritiously sweet and fragrant blend of raspberry, strawberry, cranberry, and blueberry extracts to indulge the senses. Laneige's patented Moisture Wrap™ technology boasts hyaluronic acid and minerals to form a protective film over the lips to lock in moisture and active ingredients. A generous layer of this soothing overnight lip mask at bedtime helps reduce flakiness so you wake up to lips that feel refreshed, supple, and soft to the touch.
How to use: Using an applicator, apply hydrating lip mask generously to the lips in the evening and leave on overnight. Gently wipe off or cleanse in the morning.