GAYA HIDUP
Top EcoC-Friendly Picks At Pavilion Reit Malls To Live Sustainably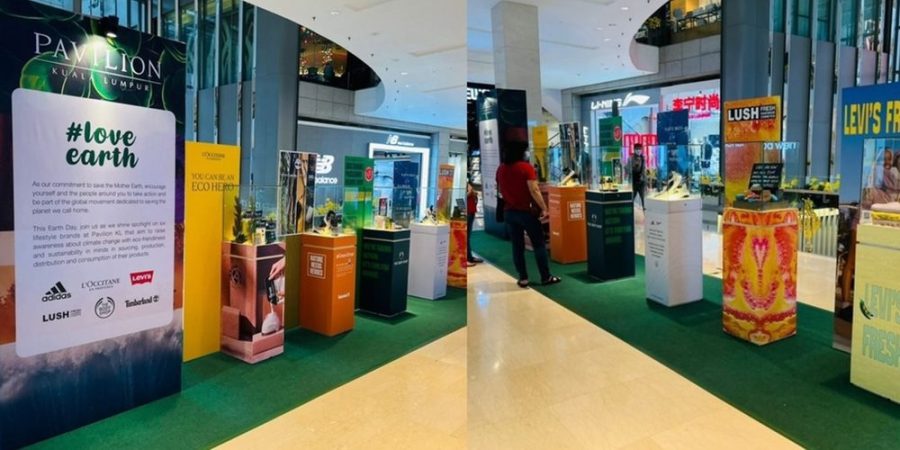 Earth Day is celebrated worldwide on April 22 to raise awareness about the environment and spur action to protect and restore our planet. Joining the movement in protecting the environment, Pavilion KL is encouraging shoppers to #LoveEarth by shining the spotlight on the sustainability efforts of brands and how shoppers can play their part in caring for the environment.
We've compiled a list of environmentally-friendly brands and items that you can find at Pavilion KL and Intermark Mall to celebrate our planet and the environment. Be sure to check out the stores and for more ideas, drop by Pavilion KL's exclusive #LoveEarth Exhibition at the Linkbridge, Level 5 showcasing brands that are taking an initiative to make a positive environmental impact.
Chloé
Bohemian haute couture brand, Chloé's, woven Woody Panier collection is the first fair trade-verified luxury bag collection. The collection includes four designs that were hand-woven by 700 Kenyan women in partnership with Mifuko. This social enterprise ensures fair compensation and safe working conditions for its network of artisans. Who says fashion can't be both stylish and sustainable?
Location: Chloé, Level 3, Pavilion KL
LUSH
Eliminate the use of plastic bottles with a Shampoo Bar from LUSH. Each bar can last up to 80 to 100 washes and is crafted with a unique blend of natural ingredients that will leave your hair looking and feeling its best. There are also a variety of shampoo bars to choose from, each with uniquely crafted scents and properties for your hair.
Did you know: LUSH has now sold over 57.6 million shampoo bars globally, saving the use of 167.5 million plastic bottles.
Location: LUSH, Level 4, Pavilion KL
L'Occitane
Be an Eco Hero by refilling your L'Occitane products with their Eco-Refills. Each refill comes in a 500ml packaging, allowing you to refill your products twice! These refills save up to 97% of packaging compared to their original containers. It also helps shoppers save up to 33% off their original price – making their Eco-Refills great for the environment and your wallet!
Check out L'Occitane's range of body care, hair care, and face care Eco-Refills to reduce your plastic waste for all your bathroom essentials.
Best of all, L'Occitane aims to make all its bottles from 100% recyclable materials by 2025.
Location: L'Occitane, Level 4, Pavilion KL
Onitsuka Tiger
Kick-off in style with Japanese eco-conscious brand Onitsuka Tiger, known for their commitment to producing sustainable footwear for the past 70 years. In addition, the brand has launched several collections to showcase their commitment to sustainable fashion.
Do check out Onitsuka Tiger's DELEGATION EX™ model, made from recycled leather and recycled PET plastic, which perfectly showcases the brand's devotion to sustainability. These kicks are not only eco-friendly, but they also look great!
Location: Onitsuka Tiger, Level 3, Pavilion KL
Timberland
It is in Timberland's DNA to love and protect the outdoors, hence the move to introduce eco-friendly materials that will last for several years and provide comfort and style!
We love the brand's GreenStride™ technology that replaces 75% of the petroleum used in the soles with renewable bio-based materials, like sugarcane and Responsible Natural Rubber. Do check out Timberland's line of eco-friendly footwear and apparel that limits the environmental impact on our earth!
Location: Timberland, Level 5, Pavilion KL
Levi's
Spruce up your summer wardrobe with the latest eco-friendly Levi's Fresh capsule collection that features a vibrant mix of incredibly soft tees, fleece, and denim manufactured with natural dyes and water-saving techniques.
The collection emphasises sustainability by utilising dyes extracted from natural sources like madder root extract and natural indigo and other agricultural by-products, food waste, and minerals, including natural clays, carbonates, and oxides specially formulated to use fewer resources. It's a fun, plant and mineral-based, planet-friendly collection rooted in essentials.
Location: Levi's, Level 4, Pavilion KL
adidas
Plastic waste has been the largest contributor to pollution for years, and adidas is committed to reducing its plastic usage. The prominent international sportswear brand has produced shoes made from recycled ocean plastic provided by Parley for the Oceans, a non-profit environmental organisation focusing on ocean conservation. The upcycled plastic waste was collected from remote islands, beaches, coastal villages, and shorelines, preventing it from polluting oceans.
This collaboration is an excellent example of upcycling plastic and shines a spotlight on eliminating plastic waste!
Did you know: adidas has successfully phased out the use of single-use plastic and microbeads.
Location: adidas, Level 5, Pavilion KL
The Body Shop
Return, Recycle and Repeat with The Body Shop and be rewarded with exclusive discounts for your next purchase. With over 120 billion units of packaging coming from the cosmetics industry, The Body Shop is taking a stand to reduce packaging waste in the industry.
Cosmetics packaging is typically classified as 'hard-to-recycle,' which means it won't be accepted by recycling services. However, this initiative is intended to process and recycle all of the 'non-recyclable' material, preventing waste from going to landfills or being incinerated.
Head over to The Body Shop with your empty, clean and dry cosmetic packaging and pop them off in the Return, Recycle, Repeat bins. While you are there, be sure to browse through their various body, fragrance and skincare products currently being developed to improve their environmental impact score.
Location: The Body Shop, Level 1, Pavilion KL
vivo
According to the Global E-Waste Monitor 2020, a record 53.6 million tonnes of electronic waste was generated worldwide in 2019. This is expected to reach 74 million tonnes by 2030. However, in Malaysia, only 25% of e-waste is recycled.
Play your part for the environment and dispose of all your e-waste safely at vivo. The smartphone manufacturer has partnered with Electronic Recycling Through Heroes (ERTH) for an e-waste Recycling Campaign in conjunction with Earth Day 2022. Just drop off your e-waste in vivo's in-store bins, and EARTH will collect it and fully recycle it at a government-licensed recycling plant.
Location: vivo Flagship Store, Level 1, Pavilion KL
The Hive
One of Malaysia's most established zero-waste brands, The Hive has everything you need to kick-start a sustainable lifestyle! Known for its variety of package-free pantry essentials, eco-friendly beauty products, variety of sustainable lifestyle products, and oh-so-delicious snacks – The Hive has it all!
We love their bamboo toothbrush, eco-menstrual cups, and of course, their variety of delicious snacks (we love their chocolate chip cookies) that you can purchase by weight.
Location: The Hive, Concourse, Intermark Mall
SKECHERS
Polyester production emits harmful chemicals into the environment, posing serious environmental and health hazards. SKECHERS saw this issue, and launched their first ever Recycle Apparel Collection, made from 100% recycled polyester. The materials of this collection are sustainably sourced from post-consumer recycled polyester.
The collection includes over 53 apparel for both men and women, with tops stylishly emblazoned with the phrase "Recycle, Reduce, Reuse" or "Earth to Comfort" as a reminder to everyone to start doing their part to conserve and protect our environment.
Scoot over to SKECHERS today, and update your wardrobe with their eco-friendly collection!
Location: SKECHERS, Level 5, Pavilion KL / Level 1, Intermark Mall