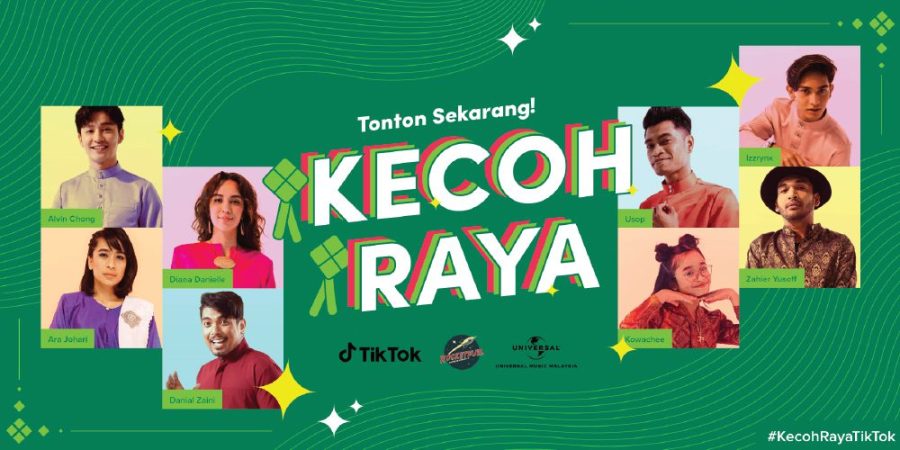 Ensemble of local artists record Raya track to ignite the festive spirit along with launch of #KecohRayaTikTok challenge
TikTok, the leading destination for short-form mobile videos, today announces the release of a catchy Raya track in partnership with Universal Music Malaysia and Rocketfuel Entertainment Sdn Bhd. Dubbed Kecoh Raya, the upbeat song is accompanied with a new hashtag challenge (#KecohRayaTikTok) to encourage Malaysians to groove to the song together in conjunction with this festive season.
Raya is undeniably one of the largest celebrations in Malaysia, with many celebrating this occasion of gratitude with homecoming, forgiveness and reconciliation. As the second time celebrating this joyous occasion in the new normal, TikTok's Kecoh Raya is the brand's effort to bring sweet reminiscence of the boisterous Raya spirit back to life on TikTok. With a team of local artists lending their power, Kecoh Raya is a full-on festive song that will be released on all digital streaming platforms on 7 May 2021.
TikTok's Kecoh Raya features Alvin Chong, Diana Danielle and Kowachee from Universal Music Malaysia, USOP and Ara Johari from Rocketfuel Entertainment Sdn Bhd, Daniel and Zahier from ERA and Izzryn from TikTok. All artists can be seen belting the heart and soul in a music video which will be available on TikTok and Universal Music Malaysia's YouTube page on 7th May. The song will also be played on ERA radio station, so there's a chance you might hear this cheerful track on your drive to work!
"It is like a breath of fresh air for modern Raya songs. The lyrics are pretty easy for listeners to remember, and it was so much fun to work with other artists. We get to exchange our opinions and point of views, which is mostly positive" says Daniel Zaini. His partner, Zahier Yusoff from ERA mentioned his hope that people will enjoy themselves while listening to the song, "let's put all the sadness away and live the moment together!".
To add to the fun, the #KecohRayaTikTok challenge, which is jointly organised by Rocketfuel Entertainment Sdn Bhd and Universal Music Malaysia, encourages everyone to groove together to the song where the most creative and kecoh Raya video will stand a chance to win a iPhone 12 256GB and Raya vouchers worth RM500. More prizes up for grabs include an Apple Watch, Apple Airpods and exclusive Raya vouchers.The campaign which aims to bring people together despite being far apart runs from 7th to 23rd May 2021.
Separately, TikTok is also introducing an in-app referral campaign called TikTok TREATS to reward the TikTok community for their participation and creativity while serving as a platform to showcase partner brands.