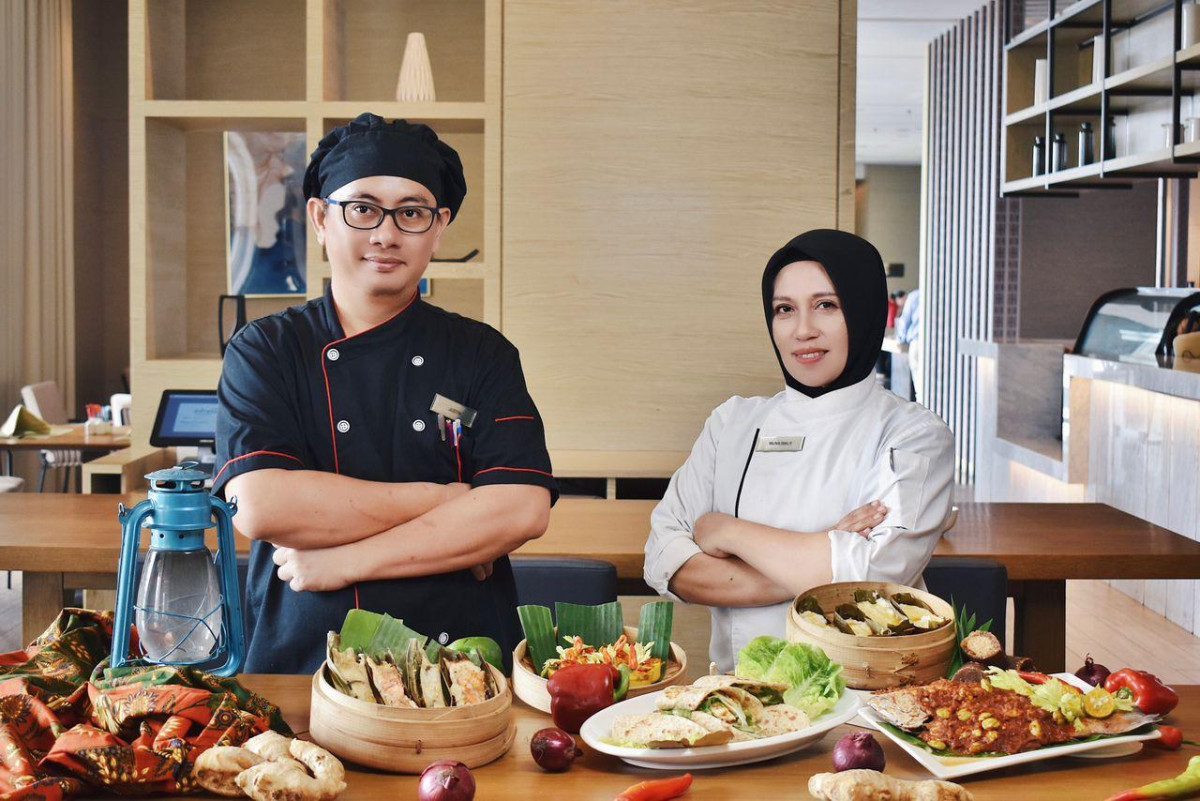 As Ramadan approaches, Malaysians are eagerly preparing to celebrate with loved ones by sharing delicious food. In order to help whet your appetite and ensure you can savour the best dishes of the upcoming festive season, we've convinced the top chefs at Marriott Bonvoy Hotels & Resorts in Malaysia to share their signature dishes!
Klang Valley's Finest Ramadan Delights
Le Méridien Kuala Lumpur
Chef Budiman shares his favourite Ramadan picks
With 150 traditional and modern dishes to try at Latest Recipe @ Le Méridien Kuala Lumpur's Ramadan buffet, it's a challenge to sample everything – but these are Chef Budiman's top picks you simply can't afford to miss!
Beef marinated with Asian spices and slowly braised in a tandoori oven for nine hours, the Signature Daging Tempayan is absolutely a must-try dish. Served with traditional Biskut Lutut and a wide variety of freshly baked bread, it's a show-stopper of a meal! Another dish to order is the Racikan Ayam, which is cooked in a sous vide machine at 63 degrees Celsius, and topped with chicken and free range eggs. It's also created using the same sauce as the Daging Tempayan, and it makes for a great meal to dip your bread into and devour.
(from left) Signature Daging Tempayan, Racikan Ayam, Mee Lob Dang Tam, Laksa Lemak Kuning Ikan Tongkol
Seafood lovers can't miss the Mee Lob Dang Tam, a fusion-style noodle dish with lobster, prawns, and crab, served hot with prawn bisque and garnished with dried chilli paste, hard-boiled eggs, lime powder, and curry powder. If that's not enough, the Laksa Lemak Kuning Ikan Tongkol – a traditional dish made with local tuna – is the chef's personal favourite, made just like nenek (grandmother) makes it! This favourite is served with yellow curry fish broth and tuna flakes, pounded with chilli paste and local green herbs, paired with your choice of noodles.
Sheraton Petaling Jaya Hotel
(From left) Ayam Masak Lemak Rebung Tok Mizi, Sup Merah Temasik Bengkulu, and Gulai Daging dan Nangka Ala Canggung
Experience the best of Malay cuisine during Ramadan at Sheraton Petaling Jaya Hotel with two thematic buffets – Sajian Warisan at Feast, and Iftar Nusantara at the Grand Ballroom.
Enjoy a diverse selection of traditional flavours curated by Sous Chef Firdaus, featuring his heirloom recipes, such as Sup Merah Temasik Bengkulu – a spicy and tangy soup made with bone marrow, oxtail, beef lung, beef tongue, beef tendon, and mutton, and Ayam Masak Lemak Rebung Tok Mizi, a family favourite of Chef Firdaus made with chicken, coconut milk, turmeric, chilies, and bamboo shoots. Be sure to also get a taste of the savoury Malay curry of Gulai Daging dan Nangka Ala Canggung, made with tender beef cubes and jackfruit, inspired by Chef Firdaus' traditional Malaysian heritage.
Four Points by Sheraton Kuala Lumpur, Chinatown
Sous Chef Meor with his signature dish Ketam Bunga Masak Lemak Nenas Cili Api
Seafood lovers should run, not walk, to Four Points by Sheraton Kuala Lumpur, Chinatown and savour the signature Ketam Bunga Masak Lemak Nenas Cili Api dish by Sous Chef Meor Muhammad Syahir Meor Sahaid.

This dish is a reflection of Chef Meor's childhood and Minang heritage, tapping into his love for spicy food and seafood. Growing up without the luxury of eating seafood often, he aims to cook with the freshest seafood to create hearty and flavourful dishes that ensure the ingredients shine through with every bite. His signature crab dish features high-quality Josapine pineapples cooked using traditional Nyonya techniques and inspired by Chinatown, creating a rich and flavourful dish that tells a wonderful culinary story.
Flavours of East Malaysia
Le Méridien Kota Kinabalu
Lemongrass and Honey Roasted Mutton
This Ramadan, check out Executive Chef Abraham bin Lingkorn, assisted by Sous Chef Kelvin Kilin and Sous Chef Gari Gidioen, for an epic buffet spread that reflects their combined experience, with a unique fusion of Eastern and Western Malaysian cuisines.
(from left) Northern Style Herbs and Spices Meat Bone Soup and Prawn Curry
Highlights include a unique Lemongrass and Honey Roasted Mutton, a creative approach to the traditional Kambing Golek. Other signatures include their Northern Style Herbs and Spices Meat Bone Soup, which is a take on the Minang delicacy; Spicy-Sour Oxtail with Torch Ginger; Prawn Curry cooked with bird's eye chilli and coconut milk; Clay-Pot Grilled Chicken; Three-Flavoured Fish; and Beef Cooked with Bambangan (Wild Mangoes), which is a dish unique to East Malaysia.
Kota Kinabalu Marriott Hotel
Junior Sous Chef Wilson introduces his Borneon spin on Roti Canai named, Eyes of Borneo
Kota Kinabalu Marriott Hotel is offering a 'Taste of Borneo' dinner buffet, where Junior Sous Chef Wilson brings hometown flavours to traditional dishes. Try his version of the timeless Malaysian classic Roti Canai with a Borneon twist – the aptly named Eyes of Borneo – that features a runny yolk to add depth and flavour to the iconic dish. Diners can also check out 10 stalls and live cooking displays while being served a gastronomic spread of home cooked, traditional specialties amidst a panoramic backdrop of the South China Sea.
Fairfield by Marriott Bintulu Paragon
Head Chef Justin and Sous Chef Muna will delight taste buds with their Ramadan spread
Delight in a myriad of local Malay and Sarawakian cuisine at KAVA this Ramadan, prepared by Head Chef Justin and Sous Chef Muna. Don't miss their Signature Grilled Fish with Sambal and Stink Bean (Ikan Bakar Sambal Petai), where the fish is marinated with a sweet, sour and spicy sauce and wrapped in banana leaves before it is grilled, creating a moist and flavourful dish with the distinct herby and smoky aroma.
(from left) Ikan Bakar Sambal Petai, Te'ong Udang Ikan, and Kuih Takir Berlemak
Another must-try is the traditional native dish of the Melanau people in Sarawak – Te'ong Udang Ikan – also known as Suman Lemantak. The dish consists of prawns and fish cooked with grated coconut, spices and sago flour before it is wrapped with the daun nipah (palas leaf) and grilled on hot charcoal. This popular dish is prepared during special occasions in Sarawak, so make sure to try this limited-time signature dish this Ramadan!
Top off your iftar with Sarawak's traditional Kuih Takir Berlemak, which is made of gula apong (palm sugar), rice flour and coconut milk. This concoction is poured into small bowls made from banana leaves, which are then steamed to create a soft, creamy and sweet dessert.
Desaru Coast Delights
The Westin Desaru
Executive Chef Jaffery with the incredible spread featuring local favourites and Mediterranean-inspired cuisine
Embark on a mouth-watering food journey and indulge in nostalgic local favourites and Mediterranean-inspired dishes at The Westin Desaru's Seasonal Tastes Restaurant. The buffet features Middle Eastern delights, including hot and cold meze (appetisers) and main courses such as Lamb Moussaka and Chicken Shish Tawook. Make sure to also try the freshly carved Marinated Harissa Whole Lamb at the outdoor carvery stall!
Malaysian options are also abundant, with popular Malaysian favourites like Lemang, Satay, Daging Rendang Minang, Ayam Masak Ponteh, Laksa Johor and more! And not forgetting the dessert spread that offers a wide variety of sweet treats, including Baklavas and Turkish Ice Cream.
Four Points by Sheraton Desaru
Chef Yati Zainol (right) and Sous Chef Zulkifli Sulong pictured with delicious Ramadan favourites
In collaboration with celebrity chef Yati Zainol (@yatiekitchen), The Mesh Restaurant at Four Points by Sheraton Desaru offers a delectable spread of traditional local favourites this Ramadan. Savour Chef Yati's signature dishes featuring Sambal Tempoyak with Ikan Goreng Garing, Varuval Chicken, Daging Dendeng, and Pais Tempoyak Cili Padi Ikan Siakap Bakar.
Diners will also be able to meet Chef Yati in person and catch her live cooking session on 1 and 8 April 2023. Inquire more to find out about early bird discounts, card promotions and group discounts.