CANTIK
Mask-friendly Colours with Wardah's New Cosmetics Range, the Colorfit Series!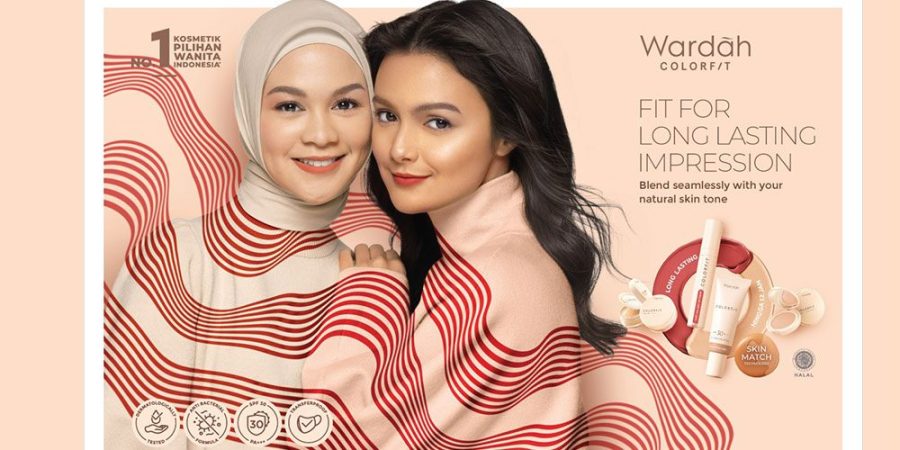 Wardah, the leading Halal beauty brand from Indonesia is
excited to launch a new addition to its range of cosmetics for modern women, the Colorfit. With a range of complexion products such as foundation and powder, as well as colour cosmetics comprising vibrant lip products with trendy colours, Wardah's Colorfit range is designed to be the perfect companion for the confident, modern ladies of today. The pandemic is necessitating the need for a face mask whenever we are not staying home. However, even while at home throughout the pandemic, makeup can be a tool for mood boosting and staying productive, and with the countless virtual meetings day-in-day-out, a carefully made up face can leave a lasting impression. With this in mind, Wardah created the Colorfit range to suit the changing needs of makeup lovers – which includes ensuring that the products are mask-proof and lightweight enough to avoid common mask-related skin problems such as mask and skin irritation.
One of the key products in the Colorfit range is Wardah Colorfit Matte Foundation. With eight shades made to suit the skin tones of women in Asia, the foundation is formulated with Wardah's own SkinMatch technology. This allows the product to perfectly adapt and match the wearer's skin tone, with minimal oxidation for a seamless look. With buildable medium coverage, the matte foundation also contains an ingredient called Microfine Matte Powder, which is weightless and absorbs oil, ensuring that makeup remains fresh for up to 12 hours.
The foundation also sets quickly, making it transfer-resistant, while providing a soft-focus effect on the skin. The Colorfit Matte Foundation also comes with sun protection, boasting an SPF30 PA++- perfect for a fun day out in the sun!
For those who prefer powder foundation over liquid foundation, Wardah is releasing the Colorfit Velvet Powder Foundation with SPF20 PA++, a combination of foundation and powder that leaves the face looking smooth, poreless and shine-free the whole day. Wardah is also launching the Colorfit Mattifying Powder, a range of face powders with a natural but buildable coverage. All Wardah's complexion products have been dermatologically tested, are antibacterial, non-comedogenic and non-acnegenic, and are suitable for all skin types.
To further perfect the look, Wardah is also excited to release the Colorfit Last All-Day Lip Paint, a range of matte liquid lipsticks that boasts a one-swipe coverage for a long-lasting wear of up to 12 hours, and dries quickly, ensuring that it stays transfer-proof and more importantly, mask- proof. Coming in 12 different fresh and trendy shades, Wardah has taken extra care to make sure that there is a perfect shade for every skin tone.
"Makeup has always been seen as a form of self-expression, but after more than a year
combating the pandemic, we realised that the criteria for makeup products have changed," says Sabrina Salsabila, Wardah's Brand Manager. "For example, with the compulsory mask-wearing, there has been an upward trend for makeup products that are not only long-lasting but also mask-proof. With the launch of the new Wardah Colorfit Series, we hope we can create excitement for Malaysians, and make them feel more confident and proud while using our products," adds Sabrina.
As an affordable premium global beauty brand, every product from Wardah is designed to be as useful as possible, giving consumers an impactful sense of beauty. Wardah's products are Halal-certified by Majlis Ulama Islam Indonesia, which is recognised by the Department of Islamic Development Malaysia (JAKIM), while also being Wudhu'-friendly.
Wardah's Colorfit Matte Foundation, and Velvet Powder Foundation retail for RM18.70 and RM18.30 respectively
Wardah Mattifying Powder starts from RM19.10.
Wardah's Last All-Day Lip Paint RM18.10.