FESYEN
Kate Spade New York Unveiled Fall 2022 Inspired By The Comforts of Home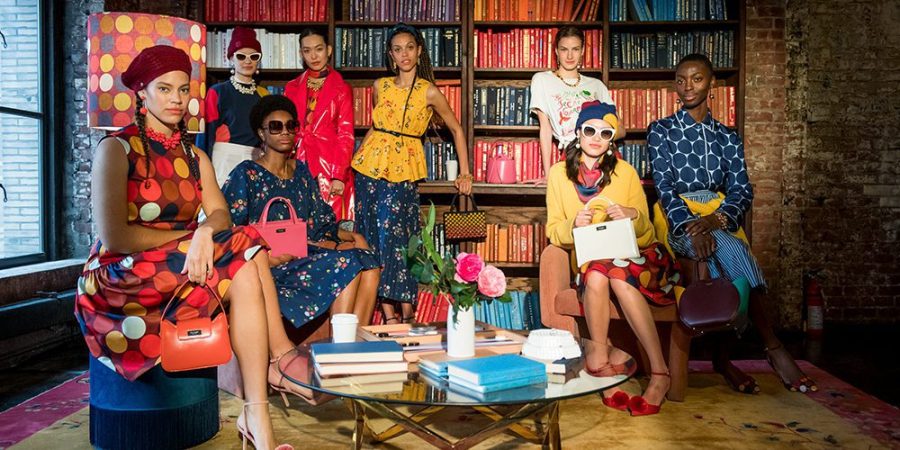 Continuing the brand's ode to treasuring everyday moments, Kate Spade New York unveiled the fall 2022 collection – inspired by the comforts of home – and kicked off an open house community event at SoHo's iconic 214 Lafayette townhouse in New York City, welcoming guests to celebrate with meaning.
Throughout 2022, Kate Spade New York is finding the extraordinary in everyday moments and is celebrating these moments with meaning. This Fall, the brand is honouring intimate gatherings…the comforts of home…eclectic interiors that we surround ourselves with — and the excitement of sharing one's home with others. A rose-covered wallpaper, a cosy plaid, the crisp pleat of a lampshade—these elements (and more) came together to create the collection presentation, along with an immersive environment for guests to experience on each floor.
Overnight, the space will be transformed into an experiential setting, bringing to life chapters from Kate Spade New York's latest coffee table book, "Celebrate That! Occasions," where the brand will welcome guests for an interactive event that will be open to the public on April 1 and April 2. The new book, just launched this month, features a collection of essays designed to inspire readers to celebrate life's everyday moments – from the extra-small to the extra-large – with meaning.
"We are a brand with a universal language of joy, optimism and color, and a customer who has always felt deeply connected to that," shared Liz Fraser, Chief Executive Officer and Brand President of Kate Spade New York. "Our 2022 seasonal collections tell a story of celebrating life's everyday moments, and we are so excited to open our doors to present our Fall collection, and bring together our New York community for a weekend of immersive & quintessential Kate Spade New York experiences."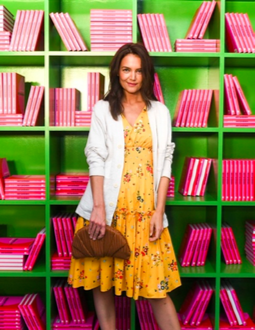 Notable attendees included Emma Roberts (actress, "American Horror Story"), Katie Holmes (actress, director), Rosario Dawson (actress, "DMZ," "Dopesick"), and influencers Blair Eadie, Babba Rivera, Nicolette Mason, NYCxClothes (Shelcy & Christy Joseph), and more. Emma Roberts wearing the fiesta plaid anita coat in grapefruit soda, plaid tweed dress in pink multi, voila heels in deep rubine, the my love heart drop huggie hoop earrings in red and the sam icon mini hobo bag in true white Image credit: BFA/Darian DiCianno
Katie Holmes wearing the bouquet toss smocked waist dress in saffron yellow, palm springs slide sandals in dried apricot and the 3d croissant clutch in allspice cake Image credit: BFA/Rommel Demano
Rosario Dawson wearing the leopard jacquard top in roasted cashew, leopard jacquard midi skirt in roasted cashew, mimosa heels in lovely leopard, leopard mood ring in black/gold, leopard hoops in neutral multi, leopard mini pendant in neutral multi, leopard pendant in neutral multi, leopard studs in neutral multi and the lucy smooth leather 3d leopard flap crossbody in bungalow multi
Image credit: BFA/Darian DiCianno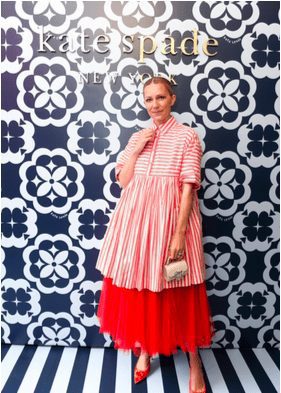 Blair Eadie
Image credit: BFA/Rommel Demano
Babba Rivera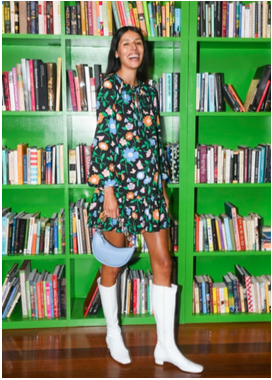 Image credit: BFA/Rommel Demano
Nicolette Mason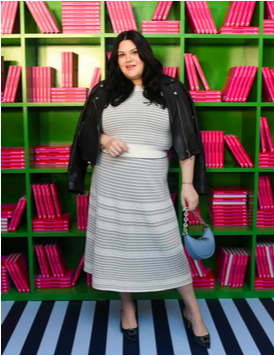 Image credit: BFA/Rommel Demano
NYCxClothes (Shelcy & Christy Joseph)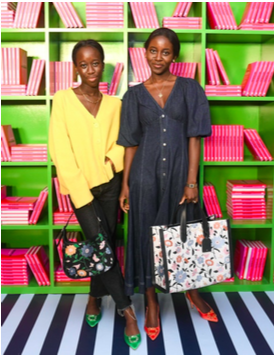 Image credit: BFA/Rommel Demano
Image credit: BFA/Darian DiCianno