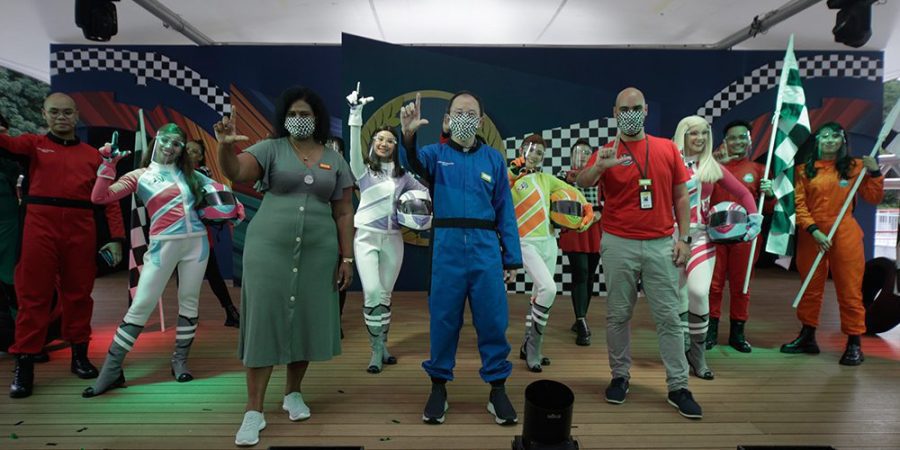 The love for vehicles, racing, and speed ignites the thrill for many children and adults. For the first time ever, LEGOLAND® Malaysia Resort has transformed the Theme Park into a world of racetracks, making way for the all-new Build The Thrills Festival.
Set to begin on 15 April until 26 June, the festival brings together a list of buzzing activities and entertaining shows to keep everyone's engines roaring with excitement, including a chance to witness and take photos with the iconic scaled-up LEGO® Ferrari 512 M model. Weighing a whopping 280kg, at 2700 x 1200 x 700 mm, the life-sized 3D version, took 164 hours of design and development before another 480 hours to build with 78,496 bricks. Guests can also flex their creativity and imagination to build, test and race LEGO® vehicles of their dreams.
"Every activity we have curated for the festival at LEGOLAND Malaysia Resort came through our passion. We want to create memorable moments for kids and their families as they spend quality time together and learn through play," said CS Lim, Divisional Director at LEGOLAND Malaysia Resort.
He added, "Guests can engage in thematic role-plays, take part in friendly challenges with awesome prizes and celebrate the best moments together with daily live performances we have prepared."
The event marks one of the largest partnerships between LEGO and LEGOLAND Malaysia Resort, designed for visitors to embrace the love of speed, cars, fun, imagination, and of course, LEGO. Guests can look forward to a fresh and enhanced experience on popular attractions within the theme park. This includes the all-time favourite Driving School, featuring a wider variety of vehicles safe for children to drive and a chance to earn the Best Driver Medal.
Those who wish to take the challenge up a notch can drop by the LEGO® Mindstorms zone for a series of STEM-based workshops, robotic maze racer, as well as building and testing a vehicle using LEGO® Technic.
"As children return to school after a prolonged break, the event complements learning through play by enabling an immersive build experience, unleashing their imagination and stimulating their creativity. At Build The Thrills, we are generating both exciting and creative experiences such as pit stop building activities and testing centres, allowing children to embrace expressing themselves while interacting with others," CS explained.