GAYA HIDUP
SANA-SINI
Get Ready for Fun, Excitement and Adventures at Pavilion Bukit Jalil this June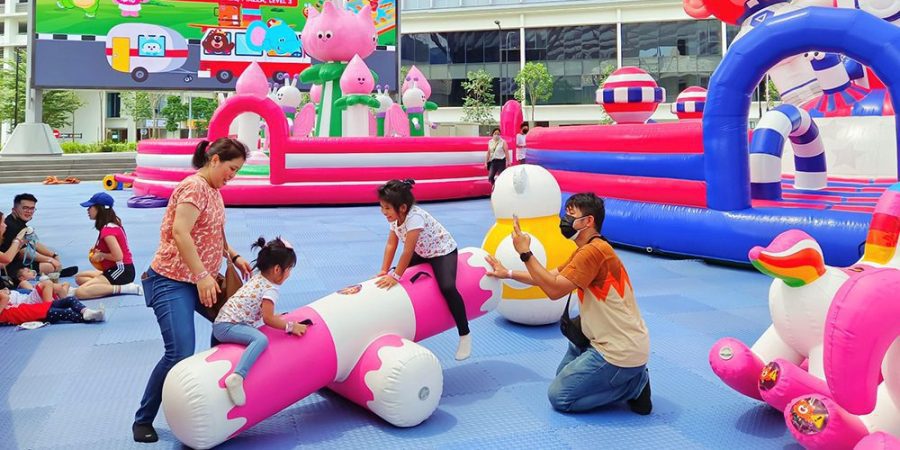 In conjunction with the school holidays, check out these boredom-busting activities at Pavilion Bukit Jalil Mid-Year (My Fiesta) Celebration Campaign that will surely put a smile on everyone's faces! 
Kids will not only have fun, they will also unleash their creativity and learn with amazing edutainment activities. While mums and dads can dine, shop, and explore the over 200 stores opened at Pavilion Bukit Jalil! Mark your calendars and check out our top school holiday activities for families to enjoy this June.
It's Pinkfong, doo doo doo doo doo doo!
Get your groove on with lovable characters Pinkfong, Baby Shark and Hogi at the Pinkfong Wonderstar Carnival 2022 for a magical adventure featuring iconic songs, balloons, fun-filled workshops, exclusive meet and greet sessions, and more!
Location: Pinkfong Wonderstar Carnival 2022, Centre Court, Level 2, Pavilion Bukit Jalil
Date: June 1 – 12, 2022
Let The Good Times BOUNCE!
Jump-tastic fun at Jumptopia Holiday Village
For the first time in Malaysia, Jumptopia Holiday Village from Singapore is here! Happening at Pavilion Bukit Jalil's 28,000 sq ft covered outdoor PIAZZA, plenty of fun awaits the young and young at heart. Have a bouncing good time at the eight giant bouncy castles with slides, swings, ball pits, unique obstacle courses, mazes and more!
Location: Jumptopia Holiday Village, PIAZZA, Level 3, Pavilion Bukit Jalil
Date: May 28 – June 26, 2022
Jurassic Adventure!
Travel back in time for a wild adventure at the Jurassic Dinosaur Adventure Park. Equipped with a dinosaur riding area, dinosaur train, volcano trampoline, and other exciting arcade games, kids can imagine they are anthropologists or scientists as they explore the immersive Jurassic indoor themed-playground.
Location: Jurassic Dinosaur Adventure Park, Level 5, Orange Zone (near Putien), Pavilion Bukit Jalil
Date: June 1 – August 31, 2022
Fun Edutainment
(from left) Kids just want to have fun with career themed toys from Toys "R" Us and puzzles from Puzzle Planet
When I Grow Up…
Encourage your kid to dream big with career themed playtime. Head over to Toys "R" Us (Level 4) and have your kid's imagination run wild with fun career role-play where they can be a doctor, police detective, race car driver, artist, pop star, chef – you name it!
Location: Toys "R" Us, Level 4, Pink Zone, Pavilion Bukit Jalil
Finding The Perfect Fit
Working on a puzzle is not only a great family-bonding activity, it can also help develop memory and problem-solving skills. Puzzle Planet (Level 4) has a range of puzzles, from 2D-Puzzles to the more challenging 3D-Puzzles. If you're up for a challenge, your family can take on the biggest jigsaw puzzle in the world – "Around The World" – with a whopping 42,000 puzzle pieces!
Location: Puzzle Planet, Level 4, Pink Zone, Pavilion Bukit Jalil
Fuel Up At Newly Opened F&B Outlets
Don't forget to replenish the energy spent with delectable dining options at the many F&B outlets at Pavilion Bukit Jalil!
(From left) Enjoy a cuppa coffee at ZUS Coffee, GiGi Coffee and Artelier Coffee
Get caffeinated!
That morning coffee can make all the difference and fuel parents for the day, especially when you have a full day planned with your kids! Make sure to bean up with a good cuppa at Artelier Coffee, GiGi Coffee or ZUS Coffee. Or if you're feeling funky, drop by CO2 Coffee Bar for a coffee mocktail – also known as 'cofftails'.
(from left) Have your tea to go at CHICHA SanChen, KOI Thé or Tealive
My cup of tea!
If coffee is not your thing, check out award-winning bubble tea brand CHICHA SanChen, KOI Thé or Tealive. For a more traditional cup of tea, choose from a variety of Chinese teas at Tianyue Teajoy.
Fruity fun
Looking for some thirst-quenching smoothies or fresh juices? Check out the juice selection at MBG, Juicy or Boost Juice!
(From left) Sate your hunger with a delicious bowl of curry laksa at Sedap by Grandmama's, enjoy delicious kopitiam fare at Oriental Kopi, indulge in Seniman's Nasi Kerabu or Mee Kari Udang Galah Bakar, or a selection of delectable sushi at Sushi Zanmai
Hearty delights
Sit down for a hearty meal with your loved ones at Sedap by Grandmama's, Seniman or Oriental Kopi for some authentic local food. For some Japanese delights, check out Sukiya Tokyo Bowls & Noodles, Sushi Jiro, Sushi Zanmai and Sushi King.
Have a quick bite at Oppa Toast (left) or A&W (right)
Something quick
Indulge in delicious curly fries and a nice cold mug of RB at A&W. Craving a burger? Check out Burger King's fresh, flame-grilled burgers! If a sandwich is more down your alley, try Oppa Toast for a unique take on street toast – with unique flavours such as shrimp and avocado, teriyaki BBQ, crispy chicken cheese, and more!
Snack Attack
Looking for a snack for your little one? Check out Candy House for a huge range of snacks from biscuits, crackers, chips, nuts, dried fruit, candy and more.
(From left) Enjoy lip-smacking desserts at Inside Scoop, Molten Chocolate Café and Rollney
Sweet sensations!
Let's be real, nobody – kid or adult – will say no to dessert! Cool down with frozen yoghurt from Yoghurt Cow or llaollao, or perhaps some ice cream from Baskin Robbins or Inside Scoop. Taiwanese dessert lovers will enjoy Yam Fresh, while chocolate lovers will swoon over the chocolate selection at Molten Chocolate Café! For something a bit different, give Rollney a try – where you can get your very own traditional Hungarian chimney cake topped with ice cream and garnishes!
Can't decide? Don't worry, just drop the Dining Concierge (Level 1) to have the friendly concierge staff help make restaurant suggestions!
ALL ROUND (MY)FIESTA
Watch the ultimate showdown between the best regional e-sports teams at PUBG Mobile Pro League SEA Championship at Pavilion Bukit Jalil Exhibition Centre
On top of all the fun, there is even more exciting happenings at Pavilion Bukit Jalil Exhibition Centre (Level 5) this June School Holidays.
Shoppers can rally and support their favourite e-sports team in the PUBG Mobile Pro League SEA Championship from 10 – 12 June; discover new, innovative and exceptional local and international furniture and home products at the My Home Exhibition from 17 -19 June; and check out the Star Education Fair 2022 & MyStarJob Fair 2022 from 25 – 26 June 2022 to further your aspirations!