SANA-SINI
The Environmental Impact Of Air Travel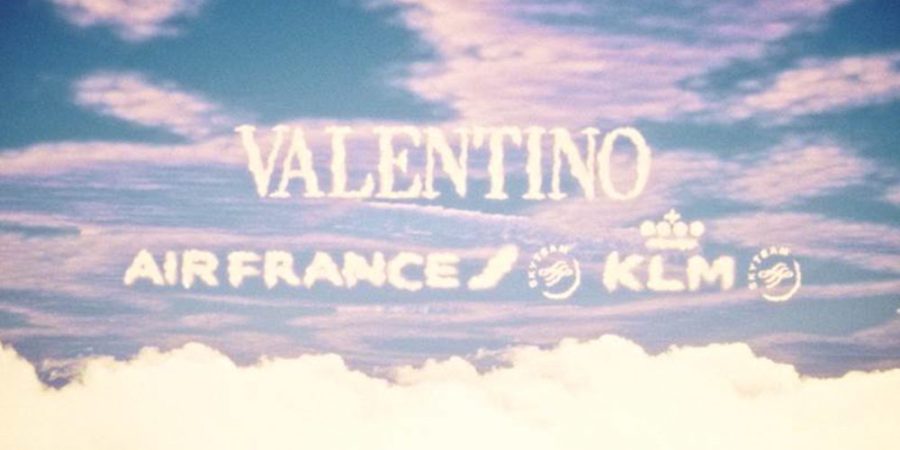 Air France and KLM and Maison Valentino are proud to announce an agreement in support of the airline group's SAF (Sustainable Aviation Fuel) corporate programme, which encourages companies to play an active role in the future of sustainable travel.
The partnership represents a new important step in the green transition of Maison Valentino,
championing conscious-driven transport and reflecting the company's commitment towards the safeguard of the environment and the implementation of its new responsible business model. At its core lies a strong, solidly built company culture, aware that the path to sustainability is the catalyst (and fuel) for a transition that not only brings about positive change for the ecosystem, but also benefits communities on a global scale.
"The production of renewable fuels for aviation is key to achieving the CO2 reduction objectives in our sector. Important companies such as Maison Valentino, which totally understand our commitment towards the environment and share our same philosophy, make sure that the road ahead is less steep. Thanks to this agreement we will be able to stimulate a more rapid availability of fuel for sustainable aviation on a wide scale, with a more competitive price compared to fossil fuels" Stefan Vanovermeir, Managing Director of Air France and KLM East Mediterranean.
"We are pleased to join forces with Air France and KLM in this important initiative supporting the SAF programme, whose green transition objectives we entirely share and support. As a brand, We are proud to share our collective voice to promote positive change. We believe that support in the research and development of alternative solutions aimed at reducing CO2 emissions is fundamental to continue sustaining production of sustainable fuel. This partnership adds to our growing commitment in giving back to the territory and to collectivity – a sense of responsibility developed with great attention in every step and action we take in a more conscious direction." added Jacopo Venturini, CEO of Maison Valentino.
Through the SAF programme, corporate clients of Air France and KLM such as Maison Valentino can make an estimate of the CO2 emissions associated with their travel, and successively determine the annual contribution they would like to give to the programme.
Air France and KLM invest all contributions in the supply and usage of sustainable fuel for aviation, supporting the creation of an industry capable of making air travel more ecologically responsible. Investing in this corporate programme, partner companies undertake concrete actions to reduce CO2 emissions and contribute to the green transition of air transport while supporting innovative solutions.
Maison Valentino – in respect of its company culture and its growing commitment in the safeguard of people and the environment – continues to bring forward its identity and heritage in a continuous innovative dialogue, experiencing a natural process of constant growth also in a quest to search for alternative solutions to generate positive change.
SUSTAINABLE FUELS FOR AVIATION, THE KEY TO REDUCING CO2
EMISSIONS
The aim of Air France and KLM is to reduce their total CO2 emissions per passenger/km of 50% compared to 2005. Air France and KLM also commit to work with all their stakeholders and public authorities to achieve the climate goal of zero CO2 emissions by 2050.
For many years, Air France and KLM have been involved in research and development programmes in the domain of alternative fuels. In 2011, the two airline companies were among the first to operate commercial flights with sustainable fuels, demonstrating that it is possible to employ an alternative to fossil fuels.
As of today, sustainable fuels for aviation can be obtained from waste oils, recycling materials and forest residues. These can be incorporated in aircrafts without modifying the motor and can reduce emissions up to 80% compared to regular fuel. While at present the main challenge is the development of a sustainable industry, the corporate clients of Air France and KLM can make a concrete contribution.
To assist with the sector's decarbonisation and aligning with the renewal strategy of the Air France and KLM group's fleet, last September Air France presented its first Airbus A220-300, the latest jewel on the crown of the company for the mid and short haul networks.
This is a new aircraft boasting unparalleled energy performances, guaranteeing a reduction of 20% in CO2 emissions and of 34% in acoustic footprint – a demonstration of how the objective of sustainability doesn't just benefit the environment, but also the airlines, who get to cut costs.
At a time when climate awareness is at the heart of the strategy of many companies, the SAF corporate program offers corporate customers of Air France and KLM the opportunity to take an active part in reducing CO2 emissions. Maison Valentino supports the use of alternative fuels and moves in synergy with the group on a path towards the future pushed by social and environmental responsibility – the perpetual motor of the brand.