FESYEN
The Panthère de Cartier Handbag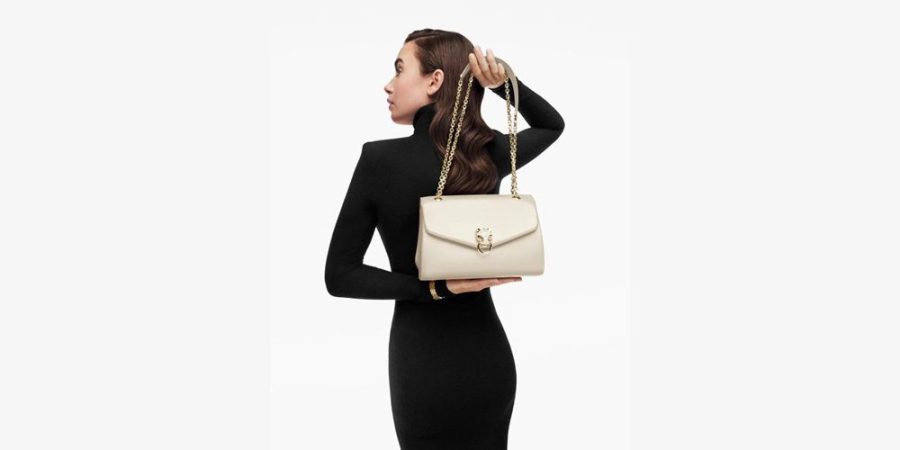 This is not just a bag, it's an attitude. It is the three-dimensional definition of a style statement, both nomadic and urban. Combining leather with Maison's emblematic animal, the Panthère de Cartier bag unites leather goods and jewellery-making savoir-faire and plays on the opposition of contrasting elements around the panther.
Curves & Volume
First of all, there is the sensuality and curvature, which give the bag its generous volume and recall the flexibility of a panther in motion. No sharp edges, no visible seams: everything is seen in terms of fluidity, curves and softness.
The Panther's Head Clasp
Then comes the ferocious and the wild. The bag's clasp says it all, with a radical panther head design. A Cartier signature, recognisable at the first glance, this panther head was created in collaboration with a High Jewellery sculptor. An exceptionally-designed, architectural piece adorned on its flat surfaces with eleven leather inserts, creating depth and perspective. A tab on the inside depicts a stylised panther's head in reference to the emblematic animal. Pulling the flap down, the clasp opens to reveal the interior, with its signature mirror pocket.
Precious Down To The Chain
The chain follows on from this jewellery aesthetic. Its links are faceted like a precious stone. It is versatile, allowing for two functions: a cross-body carry and a shoulder carry with two lengths. Finished in gold or palladium, it is equipped with a leather shoulder strap, the thickness of which is reminiscent of the sensual curves of the bag, designed to ensure comfort. Every detail is carefully considered, right down to the sound of the links clinking together.
"It is through this jewellery clasp that this encounter between the wild and the precious takes place. It synthesises the combined expertise of jewellery and leather and, through the dialogue of the craftspeople, enables us to advance our understanding of leather goods. Like an extension of femininity, demanding and refined." Marlin Yuson, Director of Accessory and Leather Goods Design