FESYEN
SIXIÈME SENS PAR CARTIER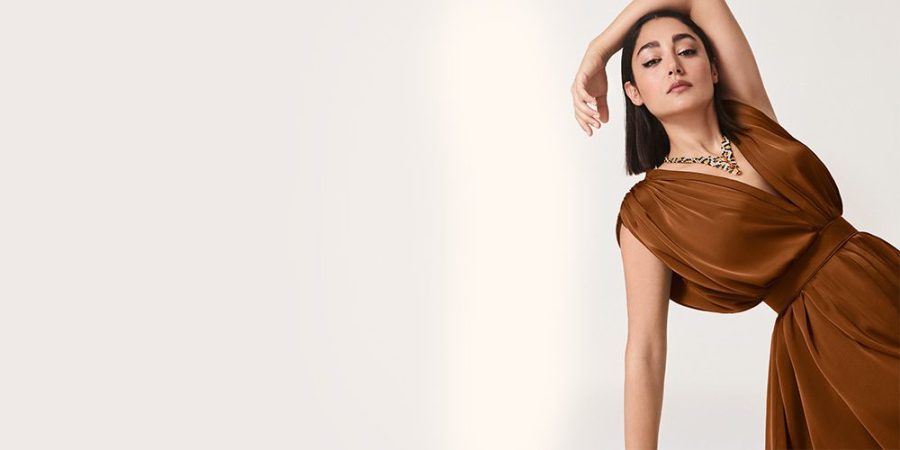 Cartier presents its new collection aptly named SIXIÈME SENS PAR CARTIER. A collection that expresses art and evokes emotion through its thousand-year-old stones. The pieces feature stylised feline interpretation, organic textures and shards of coloured light, shimmering gems electrify while stones in flavoursome hues of ripe fruits summon up scents of distant paradises.
The use of trompe-l'oeil and graphic patterns can be prominently seen in the collection. Without a doubt it challenges our perceptions,and leads us into a world of sensory stimulation, as each sense comes alive including the sixth sense: a staggering feeling of
emotion that touches the heart.
PHAAN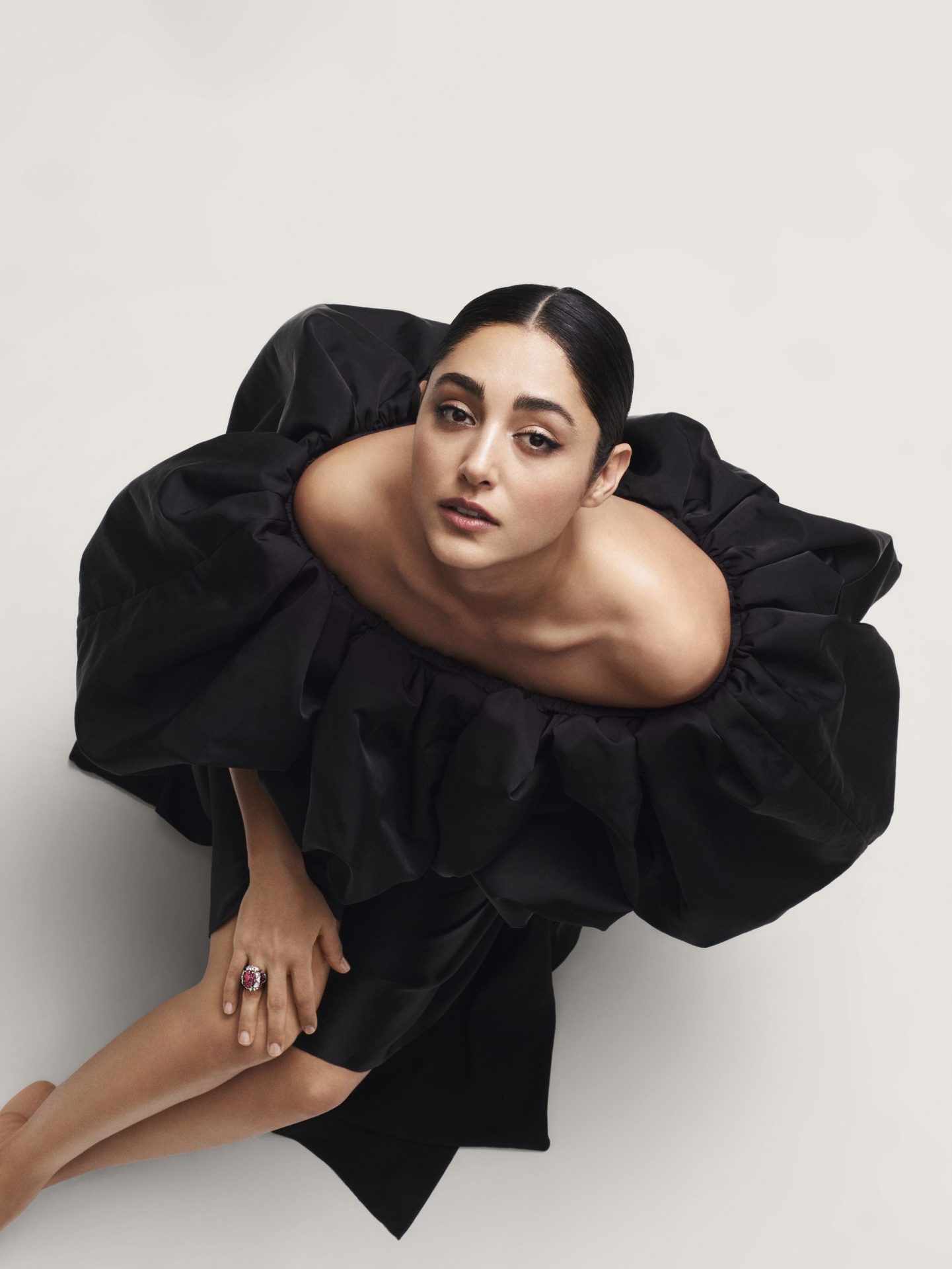 An exquisite 8.20 carat ruby ring with a tiered construction that allows a 4.01 carat rose-cut diamond to be inserted
directly below the magnificent stone that sits at the top. The contrast between the different sizes of stones and different hues are amplified by a setting designed to be as inconspicuous as possible.
MERIDE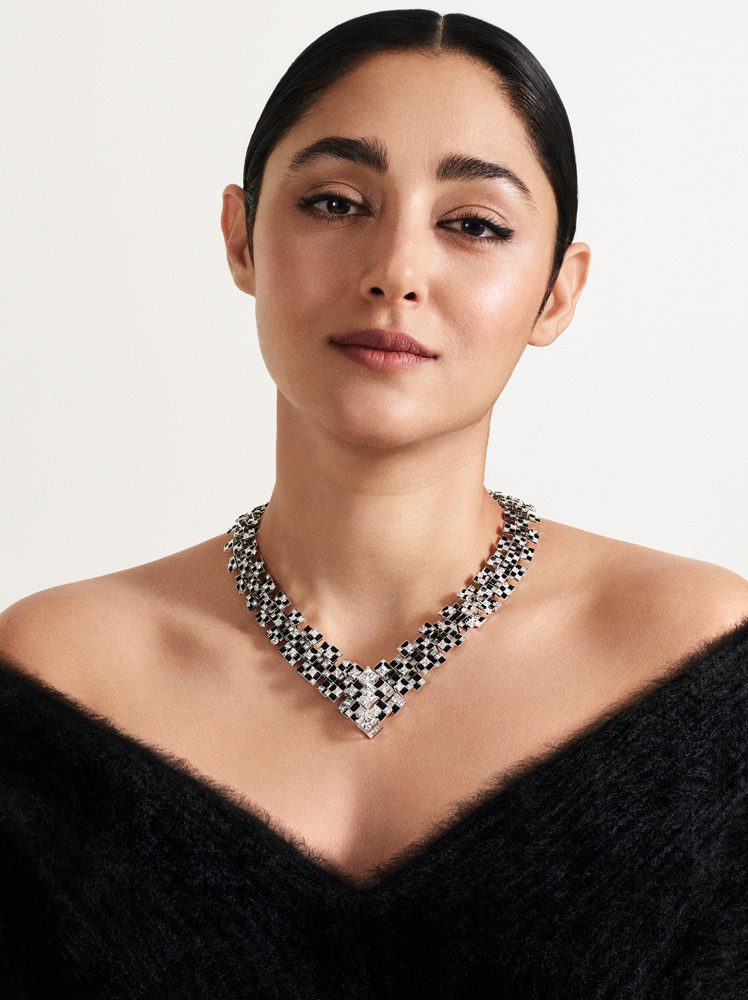 The meride is a hypnotic necklace that looks like a checkerboard with its diamonds, onyx, and rock crystals. Nothing short of brilliant, the stones appear to multiply ad infinitum an optical illusion that is made all the more striking by the relief of the piece as each element is mounted at a different level.
PIXELAGE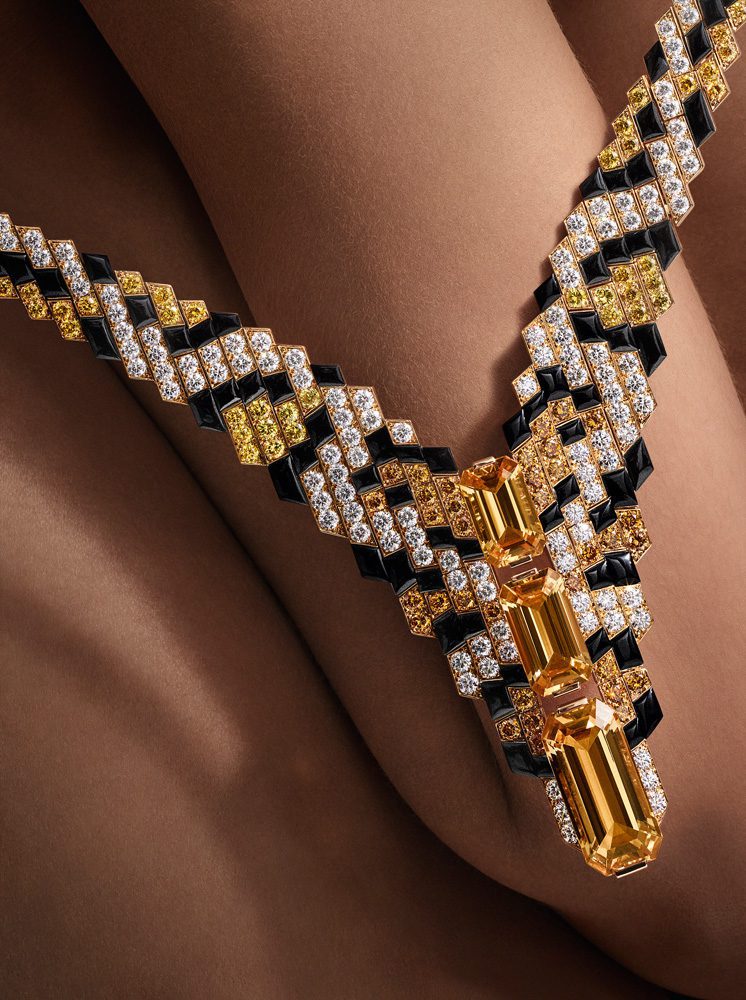 Resembling the striking image of a panther this necklace celebrates Cartier's artistic bestiary since 1914. Faithful to the original stylisation, here, motifs make up the panther's spots. Polished onyxes evoke the marbling of the fur,while white, yellow and orange diamonds represent the thickness of the pelt, with its golden reflections highlighted by three captivating golden topazes for a total of 27.34 carats.
PARHELIA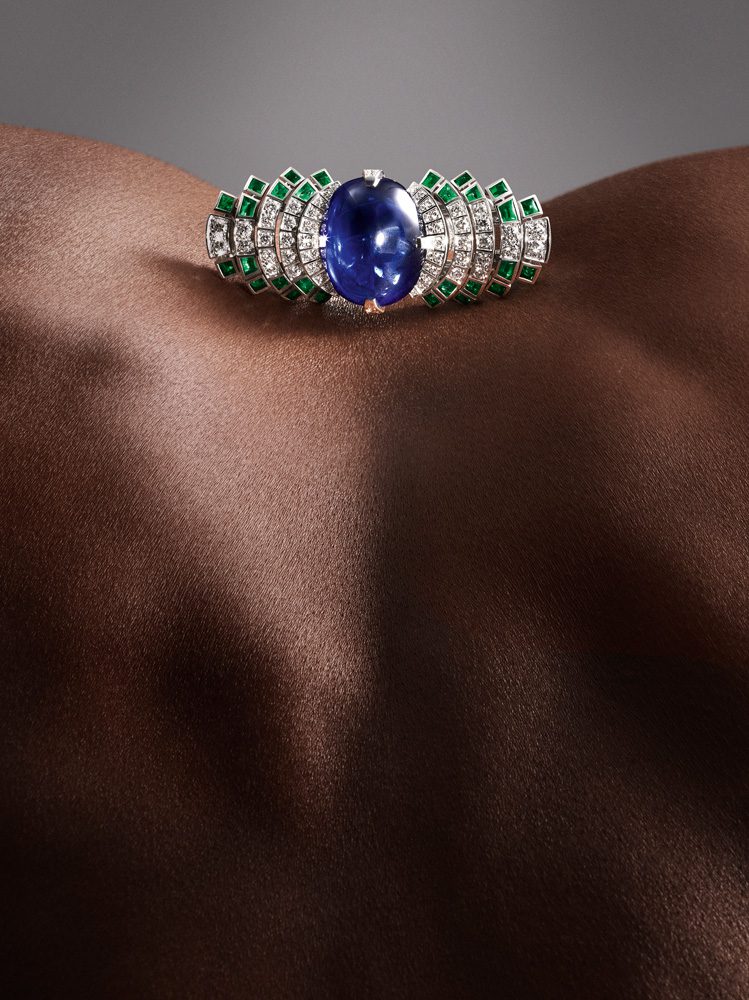 Irresistible to many the Parhelia ring not only can be used as a ring but it can also be detached and function as a brooch. In the centre lies a 21.51-carat sapphire cabochon, with an intense blue hue that can easily draw anyone in. Around it, five parentheses of radiant diamonds and emeralds reflect the light. Black lacquer creates shadow effects to reinforce the impression of movement, supported by the original width of the ring, which spans three fingers, with slightly mobile tips.
ALAXOA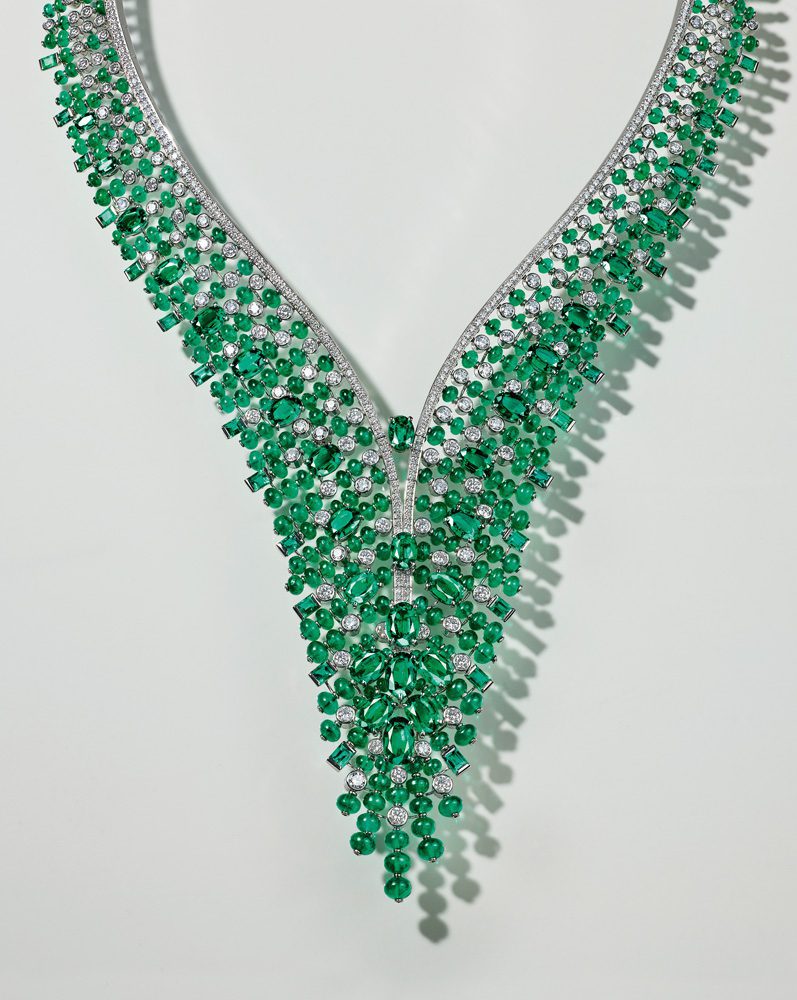 The Alaxoa necklace features a selection of emeralds that are carefully selected by artisan jewellers based on their colour and diameter. This in turn plays a role in the necklace's harmony, symmetry and correct placement in the composition altogether.
SHARKARA
The Sharkara necklace is a playful piece that sees variations of the same hues morphed together. This includes tourmalines, coloured sapphires, garnets, and diamonds. Considered as a whole, the necklace evokes an organic shape, ripe with succulent berries.
CORUSCANT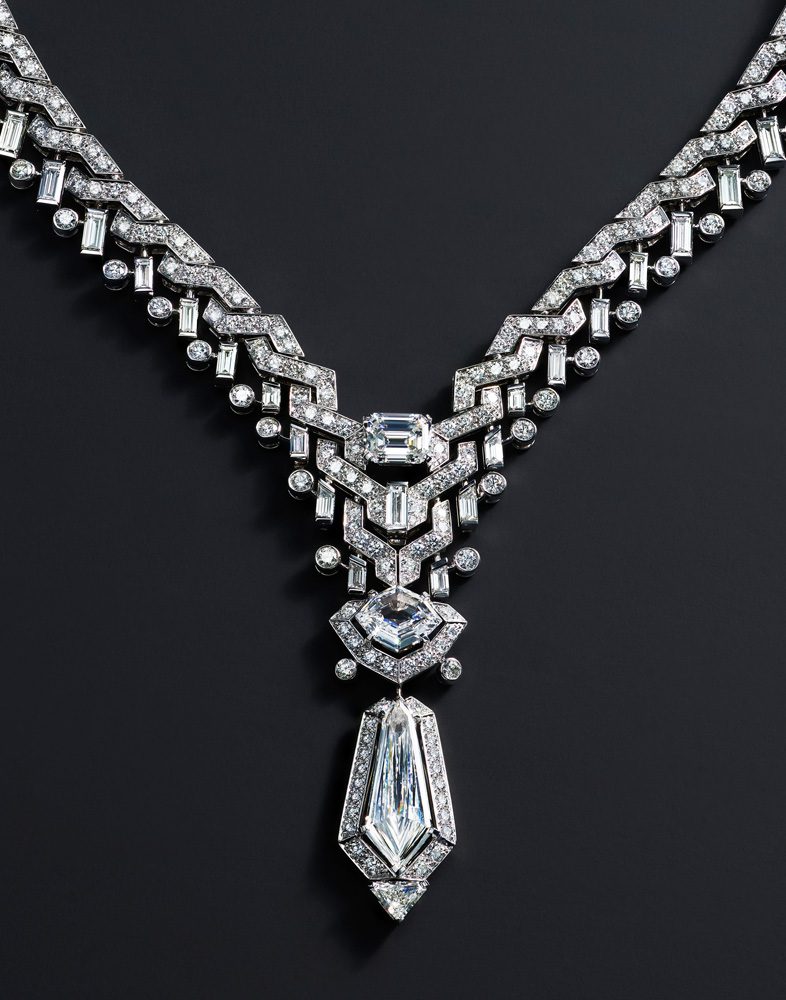 Shine bright like a diamond literally with the Coruscant necklace. A vibrant testament to the enchanting power of diamonds, this necklace features six different cuts—kite, octagonal, emerald, triangle, baguette and brilliant—certified D IF and E IF, each of which reflects light
from a unique angle.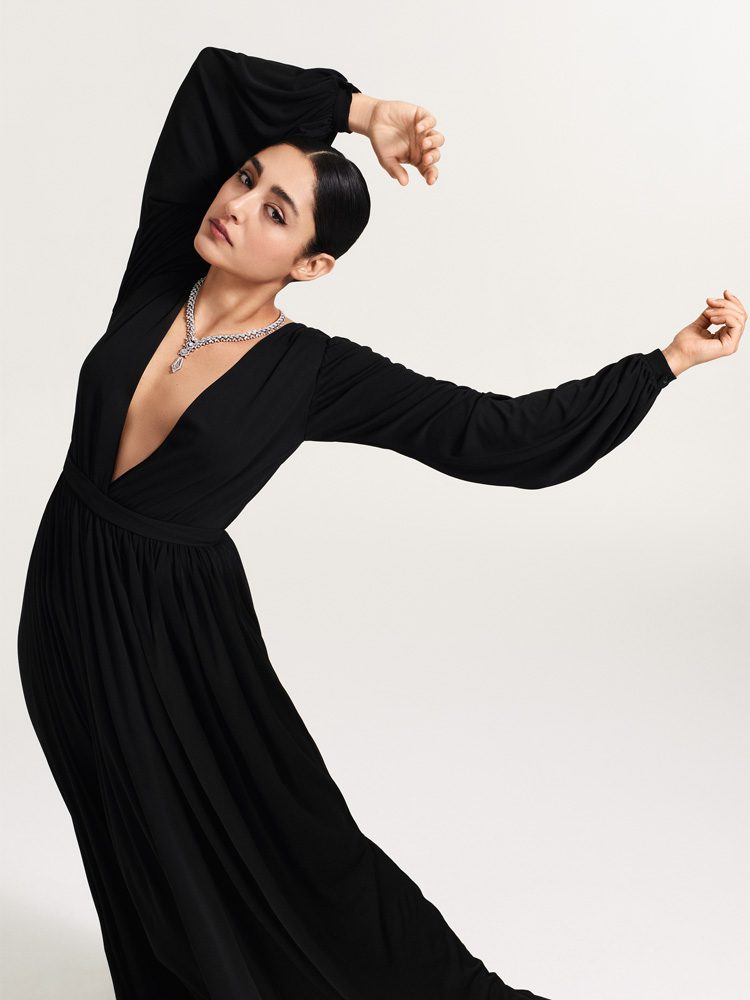 The SIXIÈME SENS ambassador is none other then Golshifteh Farahani an accomplished actress, singer, and musician. No stranger to the red carpet, her multi-faceted personality makes her the perfect embodiment of Cartier High Jewellery, which draws its inspiration from a diverse and multicultural heritage.