SANA-SINI
Muslim Pro joins relief effort to aid flood-hit families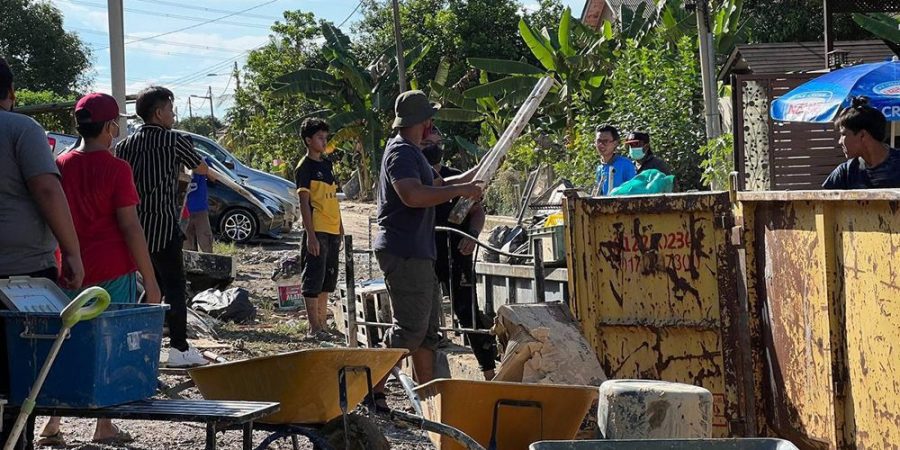 Muslim Pro pays it forward to Selangor flood victims to help over 400 families in need.
The world's most popular Muslim lifestyle app, Muslim Pro, has partnered with a local non-governmental organisation (NGO) Pertubuhan Kebajikan Sedulur (SEDULUR) to donate food and essential supplies to 410 affected homes in Klang, Shah Alam, Hulu Langat, and Banting in the state of Selangor.
As part of its support for flood relief efforts, Muslim Pro donated US$10,000 (RM42,265) to flood-hit households at Orang Asli Mah Meri at Kampung Orang Asli Sungai Bumbun in Kuala Langat; residents in Sungai Lui, Batu 18 Hulu Langat, residents at Kampung Bukit Lanchong, Klang; and residents at Section 23 and Jalan Impian, Shah Alam.
"Muslim Pro is deeply saddened by the recent floods and is committed to playing our part to help individuals and families impacted, including those who have lost their homes in this tragedy. We hope that by joining community efforts to help flood victims, we can play a small part in helping families recover and rebuild," said Nik Emir Din, Muslim Pro's chief financial officer and country manager for Malaysia.
As part of Muslim Pro and SEDULUR's relief efforts, families will be provided with food and essential supplies consisting of pantry essentials, personal hygiene products, and medicines. Key household items, such as mattresses, pillows, blankets, stoves and cleaning supplies will also be provided to affected families.
SEDULUR, in collaboration with other NGOs, have mobilised over 100 volunteers to assist affected communities in their cleaning efforts.
"We are overwhelmed with the outpouring of support we have received from organisations such as Muslim Pro and members of public. This genuinely shows the 'Keluarga Malaysia' (Malaysian Family) spirit, and how we are coming together despite our differences to help each other in times of need," said Abdul Rahman Nikman, SEDULUR's chairman.
"During times of crisis, such as this, let us be thankful and reflect upon what we have and pray for the safety and recovery of all the flood victims," he added.
SEDULUR has distributed 410 food and essential packs to households, and will be rolling out the distribution of cleaning supplies and household essentials in stages. Volunteers will be mobilised to help with neighbourhood cleanups for the communities throughout the flood disaster.
This is the second time Muslim Pro is partnering with SEDULUR. The first collaboration came in July this year to provide food aid to B40 communities directly impacted by the Covid-19 pandemic.
Those who wish to donate to flood victims can drop off essentials at the HOUSE OF SEDULUR at 31, Jalan OS2, Taman One Sierra, 68100 Batu Cave, Selangor (Contact: Sis Najihah at +6011 7233 4900) or transfer donations to Pertubuhan Kebajikan Sedulur (Maybank Account Number: 5641 2864 9116). Visit SEDULUR's Instagram page for up-to-date information on the required supplies.
Flood victims in need of urgent aid can contact SEDULUR at +6011 7233 4900.
About Muslim Pro
Muslim Pro started as a mobile application with a simple idea: to provide accurate prayer times for our Ummah. Over time, Muslim Pro has grown with Muslims' evolving needs, into a comprehensive mobile app that serves millions of users around the world offering comprehensive religious, lifestyle, and community features. Today, it has been downloaded over 120 million times.
Its main features include accurate prayer times, azan, full audio Quran, Halal restaurants & Mosques guide, Qibla compass, Islamic Hijri calendar, Zakat calculation, Daily Inspiration contents, Fasting and prayer tracker, virtual Hajj journey, Popular Verses, daily Duas, Dhikr tracking in the Tasbih, and the latest is Khatam Quran.
Muslim Pro has more than 120 million downloads in over 200 countries across users of all ages. For more information, please visit https://www.muslimpro.com/