FESYEN
Valentino Garavani Roman Stud Interpretation of the Rockstud Family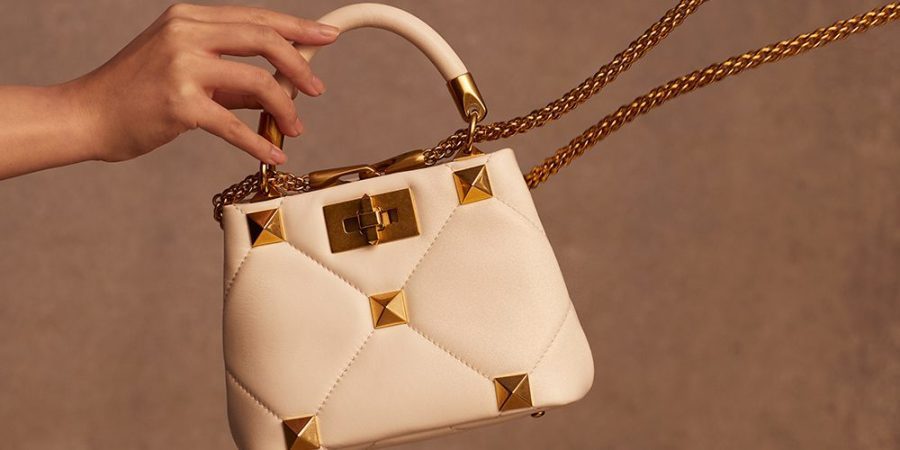 [vc_row][vc_column][vc_column_text] Maison Valentino presents "Mastery Tales": a narrative of beauty, creative fervor, passion and tradition that distinguish the extraordinary savoir-faire of Italian artisanship and techniques of the Maison. A series of episodes to discover the timeless excellence and the culture of Couture that identify the most iconic items of the Valentino collection. Valentino Garavani Roman Stud is the Creative Director Pierpaolo Piccioli's ultimate interpretation of the Rockstud family. A bold yet sophisticated evolution of the iconic stud, which is enlarged in a macro version. A tribute to the bugnato which characterizes the Roman Palazzos, that open towards the street, allowing confident observations. The new Valentino Garavani Roman Stud top handle bag, crafted in soft nappa leather, perfectly conveys the romantic punk attitude of the collection as well as Valentino's craftmanship tradition and care for detail; its tiny silhouette is enriched by a macro quilting and maxi studs.
[/vc_column_text][/vc_column][/vc_row][vc_row][vc_column][vc_gallery type="image_grid" images="14800,14799,14798,14797,14796″ img_size=""][/vc_column][/vc_row][vc_row][vc_column][vc_column_text]
Every bag requires around five hours of work and over a meter of leather to be produced.The leather is treated to acquire its distinctive soft touch and ironed to gain its unique brightness.
[/vc_column_text][/vc_column][/vc_row]