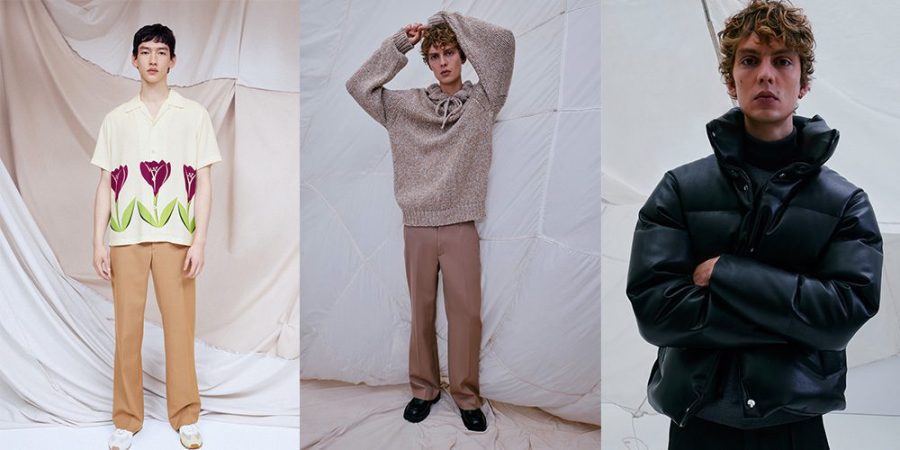 The Sandro woman plays with times and places. Shifting codes and bringing opposites together are her favourite style tricks, and the Fall/Winter 2022 season is no exception to the rule. She introduces herself as a digital nomad, for whom the art of mixing without complexes is the very essence of style. Divided between a fast paced daily life and a desire to travel, she remains true to herself she uses contrast and instinctively mixes different influences.
The Sandro woman often looks in the rear view mirror. From her years in the upper class neighbourhoods, she keeps her preppy codes twisted jumpers, flowing dresses and moccasins are an integral part of her identity. But no question of looking too prim! She shakes up the codes and twists them, recomposing her look until she finds the right combination. She envisions her tweed or houndstooth patterned outfits with imposing boots Bon twist bon genre. She draws her cuts and fabrics from a man's wardrobe, not forgetting to be feminine. She steals her grandfather's jackets, which she combines with sports inspired pieces, with striped jumpers borrowed rom American football players or polo shirts with contrasting collars. Nostalgic for the 80s and the college benches, she brings out her teddy and her pleated skirt. If the warm the jacket is one of her season essentials, she layers it with a Britney style crop top.
Underneath her first in class appearance, she has not forgotten her party spirit. Like a revival of the 90s at the Palace and the Bains Douches, she completes her wardrobe with pieces inspired by clubbing chic, always diverse and surprising. Oversized shirts and shorts are superimposed on sexy and feminine knits. With the help of rhinestones, she makes black shine! Satin revives matte, and lurex spices up tweeds.
Her hectic urban life is juxtaposed with a desire for hedonism, and a desire to slow down. "Hippies were right" is her state of mind, reflecting a certain taste for claimed eclecticism. This season, jogging suits are worn with structured jackets whilst the Navajo motif is superimposed on the stripes of poplin, for a cool look in all circumstances.
Peace and love as well as daisy symbols are integrated into prints and jacquards. Liberty is revisited on silk dresses, down jackets, and even worked in patchwork. This fall, the Sandro woman can curl up in jumpers and fluffy scarves, adopting a total knitwear look without compromising herself. The masculine feminine game no longer holds any secrets for her, and she navigates freely between the genres Poking fun at codes, some of her pieces even look like authentic vintage the leather of her sheepskin jacket looks as if it has been patinated by several seasons, and the fake wear of her jeans is to be mistakena. A new heart shaped logo is worked into a print or embroidery, because in Paris or elsewhere, it is love that she dreams of.