FESYEN
dUCk Group Second Flagship Store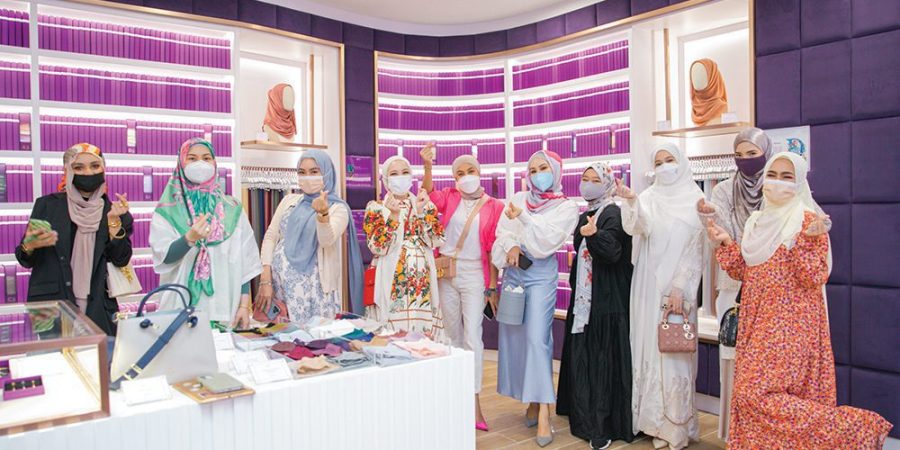 The dUCk Group officially launches its second flagship store. Located in Bangsar Village 1, this flagship store is unlike any other as it offers a unique twist of the in-store experience, specially designed for fellow dUCkies. For the first time, the dUCk store features its own café, a women-only hair salon, a mini library, an iconic dUCk wall and scarf gallery, a station to personalise gifts and exclusive dUCk items for sale. The two-storey flagship store is also dUCk's seventh store in Malaysia, in time with dUCk's seventh birthday. The momentous occasion was launched by Vivy Yusof, Co-Founder of The dUCk Group.
"dUCk was never built just to sell scarves. dUCk was built to celebrate the lifestyle of a modern modest woman. My vision is for it to become the leading premium modest fashion and lifestyle brand, and with this store, I feel we got closer to that vision. From the way she dresses, to the way she wears makeup, to how she cares about grooming and self-love to how she wants her coffee in the morning – dUCk Bangsar Village has encapsulated that especially with our new café and salon. Though it was our most challenging store to build especially during the pandemic, it is truly a dream come true for us. I hope people will enjoy the complete experience at this store." said Vivy Yusof, Co-Founder of The dUCk Group.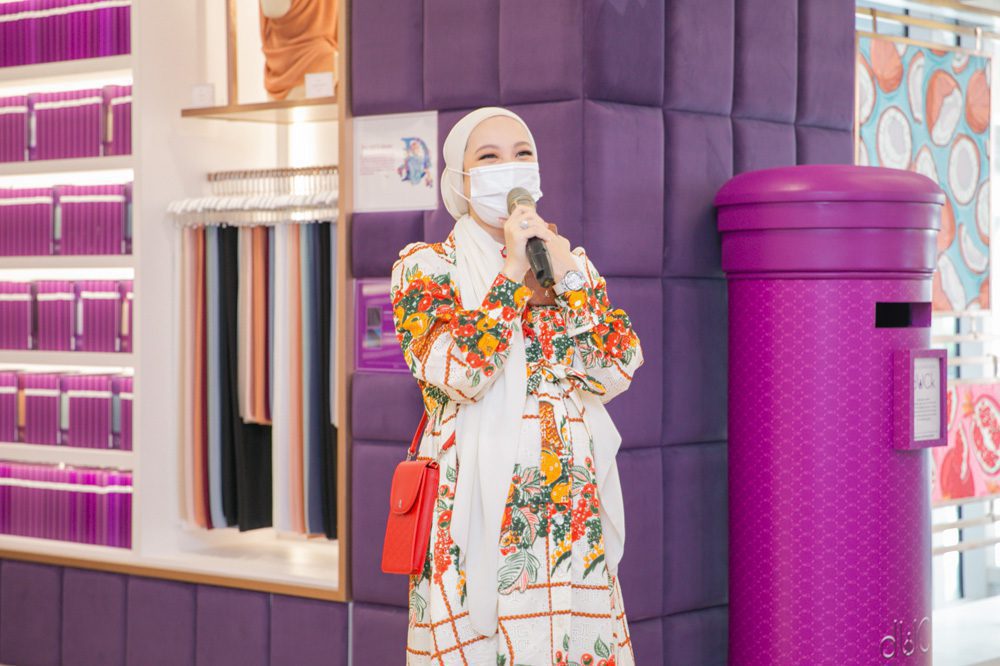 THE dUCk STORE EXPERIENCE
Donned with their iconic purple colour, the new store will surely excite fashionistas, beauty enthusiasts and of course, fellow dUCkies. From dUCk's ready-to-wear collection, home & living, bags, essentials, cosmetics and more – the store is ready for everyone to experience all things dUCk. The store will also feature the exclusive, newly launched collections on top of dUCk's best-selling cosmetics.
THE PURPLE LIBRARY
Created for an interactive experience, The Purple Library is one of the dUCk store's signature touches. Customers can take their time to explore the purple boxes of Premium Basics and find scarves that truly meet their needs.
Fun fact, dUCk has sold more than three million (and counting) scarves worldwide, enough to line all the way from London to Qatar! You can also catch dUCk's enchanting new release on the Ultimate Princess Celebration – the Disney Snow White series!
THE dUCk SALON
Treat yourself after a full day of shopping at dUCk's hair and nail salon! Managed by A Cut Above, the first-ever dUCk salon ensures privacy, designed especially for dUCkies. Book your slot now at www.getducked.com for a haircut, a blow-dry or to get your nails done with our mani-pedi service.
ICONIC dUCk WALL
The excitement of receiving the signature dUCk box that comes with every purchase of a scarf is known to many. The dUCk wall is decorated with more than 300 Limited-Edition collection boxes. Making it an oh-so OOTD-worthy spot!
PERSONALISE YOUR dUCk
Gift your bestie or your loved ones with a personalised, bespoke dUCk item! Customers can get their scarf embroidered and their bags stamped with their names, in this section.
REWIND AND REPLENISH AT THE dUCk CAFÉ
Inspired by a café in London, look out for the big purple Sakura Tree for an Insta-worthy spot while you unwind and get your coffee fix. dUCkies can also grab a book at the reading nook in case they want to unwind. What's more, they can bring the book home with them – at no cost!
So, make your way to the dUCk BV Flagship Store located at the Ground Floor and Lower Ground Floor in Bangsar Village 1, (opposite Basil for Ground floor) for a unique and glamorous shopping experience with exclusive dUCk collections, an enchanting dUCk café and a dUCk hair salon.
In conjunction with the celebration, the dUCk group has also launched their dUCk app which is now available for download in both Apple and Google Play store. With a registered account, there are reward points to collect with every offline and online purchase, exclusive deals and faster checkout. There is a welcome offer for dUCkies with the app to download so they can shop and check out the latest collection.